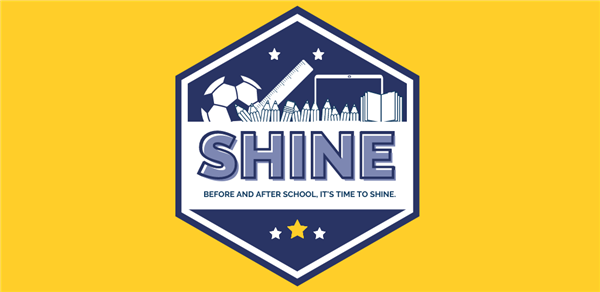 SHINE details for the 2022-2023 school year will be shared later this summer.
Before- or After-School Care for K-12 SPS Students
Adjusted start/end times can impact schedules for families.

That's why we're partnering with four Springfield organizations to provide before/after-school care and academic support for SPS K-12 students.

Boys & Girls Clubs of Springfield, SPARC, Springfield Dream Center and the YMCA will help SPS students SHINE.
Boys & Girls Clubs of Springfield will exclusively provide care at 8 schools (Bissett, Bowerman, Boyd, Fremont, McGregor, Robberson, Sherwood, Williams) for children ages 6 and up beginning on the first day of school, Aug. 22. Due to a recent change in state law, Boys & Girls Clubs will be able to provide care for five-year-old children beginning on Monday, Aug. 29. For specific support the first week of school for kindergartners under the age of 6 served exclusively by Boys & Girls Clubs, contact your principal.
SHINE Scholarships
Scholarships are available for those who qualify*, thanks to the SHINE Fund provided by Springfield Public Schools. In 2022-2023, the SHINE Fund will continue to provide SHINE Scholarships to cover before- and after-school care costs for up to 2,300 students.

For students in Tier 1 and Tier 2 start and end times, SHINE Scholarships would be available for afternoon care. For students in Tier 3, SHINE Scholarships would be available for morning care.

*Students who qualify for free/reduced meals are also eligible to receive Scholarships to participate in their school's SHINE before or after-school program, based on site capacity and funding. SHINE Scholarships are available as funding allows.
Goals for SHINE
Consistent, effective academic supports for all SPS before/after care providers.
Remove barriers to access to before/after school care for the most under-resourced and under-performing SPS students.
Support SPS families with quality before/after school care.
Partner with current wraparound partners to develop and implement a consistent care plan.
Why Before/After School?
Support student achievement by providing students with additional time for learning and extra help needed.
Ensure child safety by partnering to offer families a safe place for children to learn both during and beyond the school day, allowing parents to return to work or take time to seek employment.
Address student mental health by connecting young people with caring mentors who are trained to help them succeed at school and at home.
Fight childhood hunger by providing meals and snacks for students.

SHINE and the SHINE Fund are made possible by $3.4 million in Coronavirus Relief Funds (ESSER II).
Last Modified on Wednesday at 3:37 PM