SPS names new assistant director of athletics and activities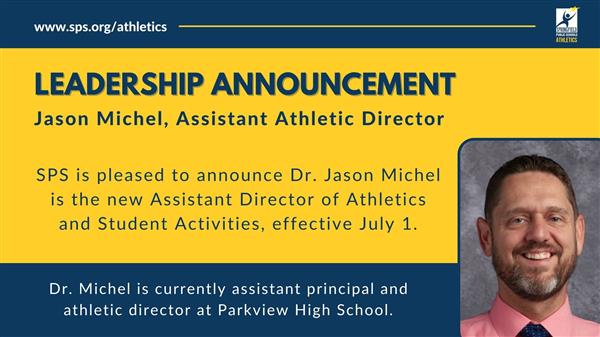 For Immediate Release: May 12, 2021

Springfield, Mo., Wednesday, May 12, 2021 -- Springfield Public Schools is pleased to announce the selection of Dr. Jason Michel as the new assistant director of athletics and student activities, effective July 1.

For the past 10 years, Dr. Michel has served as assistant principal/athletic director at Parkview High School, where he managed athletic facilities and programs at the high school level.

"I believe sports help students develop and grow by teaching them life skills such as communication, teamwork and perseverance, which prepare them for success after graduation," said Dr. Michel. "I look forward to playing a greater role in supporting student-athletes and coaches districtwide in reaching their potential in and out of athletics."

Dr. Michel possesses a Doctor of Education degree from Southwest Baptist University, a Master of Science in Secondary Administration and Master of Business Administration from Missouri State University and a Bachelor of Arts from Drury University.

"I am excited to have Jason come on board and continue the great work Marty Marsh has facilitated," said Mr. Josh Scott, SPS director of athletics. "Jason is an empathetic and detail-oriented leader, and I believe he will continue a high level of support to students, coaches and administration in our district."

----

Note to news media: Download a photo of Dr. Michel here.