Return to Headlines
Kickapoo cheers on special education students in annual schoolwide celebration
On a sunny Friday, Kickapoo High School senior Ruvim Senina stood up confidently from his wheelchair. He took his forearm crutches into his hands, and then he took a step forward. And another step. And another.
And 1,800 high schoolers cheered.
"It was kind of scary, but I did it," said Ruvim. "I did it last year as well, so I kind of knew what was going to come, but I was kind of nervous as well. But when they cheered for me, it felt awesome. It gives you a sense of confidence in what you're doing."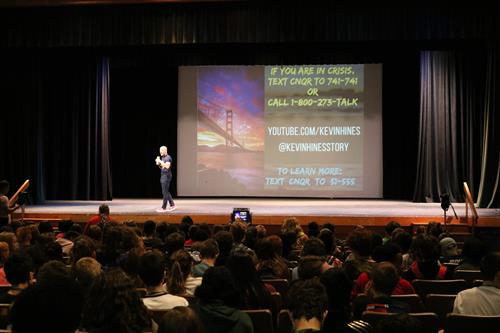 Ruvim took bold steps in showing what he and his special education classmates can do during the Super Chief Olympics April 27. The annual all-school assembly shines a light on special education students' unique abilities each spring, a tradition that began as The Great Race more than a decade ago, says Scarlet Cormack, special education teacher.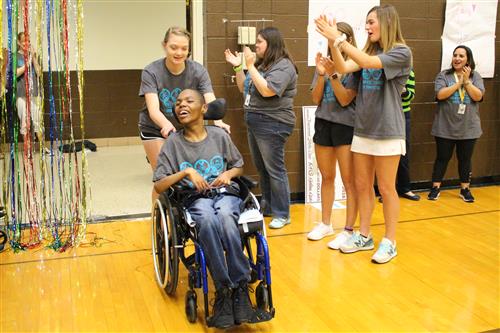 "The purpose of the Super Chief Olympics is to get the community involved with our kids," said Cormack. "But the real purpose is to show our kids' abilities. If we show that our students can walk, run, play and interact, that they're friendly, it takes away that unknown fear factor that some might have when interacting with our students."
At Super Chief Olympics, 20 special education athletes competed in tee ball, ring toss, football toss and an interactive obstacle course. Plus, students sang, danced and supported each other, surrounded and encouraged by 64 general education KHS buddies, or student volunteers.
A Kickapoo senior and a special education paraprofessional hyped up the 2,000 in attendance during the hour-long assembly, as every Kickapoo student and staff member watched and cheered on the Olympians.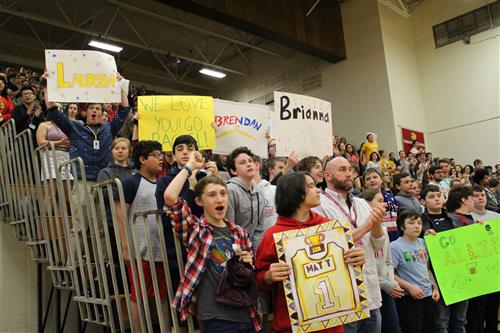 One of the loudest cheers came from Ruvim's buddy, Lauryn Hickerson, a senior at Kickapoo High School. She was holding the wheelchair behind Ruvim, cheering him on, as he walked in front of the whole school.
"It was honestly the best experience ever," said Lauryn. "It's just such an honor to be able to be a part of it, especially with my senior year. They do so many great things that a lot of people aren't aware of, so it's great to be able to show that and be able to help out in any way possible. That's just the best."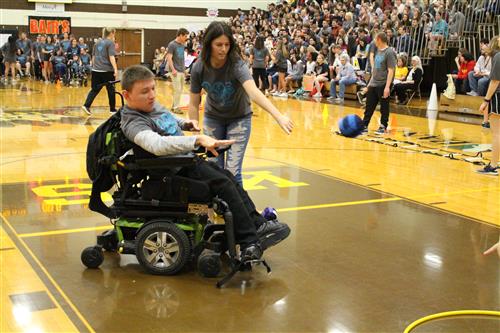 After the Olympics, each Super Chief Olympian was presented with a gold medal made by Kickapoo's ceramics class. And as Ruvim rolled back to his classroom, Lauryn walked next to him, talking to him not just as a his Olympics buddy, but also his friend.
"Today wasn't good, it was great," said Ruvim. "Today was great because the Super Chief Olympics happened today, and we got to do different events and we got noticed by the whole school. And that was kind of great."