Return to Headlines
SPS United: Meet Abby Hathcock, principal of Sequiota Elementary School
Sept. 13, 2023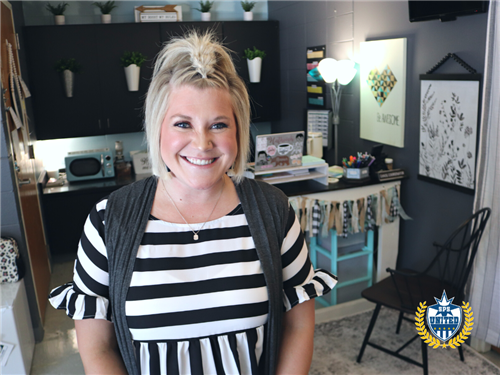 "I'm a product of Springfield Public Schools, K-12. I'm loyal to the educational institution that built me. How many people can say they get to lead the people that led them into education? That is the definition of full circle and that truly defines my connection to Sequiota.
My parents were among the first students to attend Sequiota in 1964 when it was built. My sister and I both attended K-5 at Sequiota and grew up in the Galloway area. Currently, my desk sits in the play kitchen area of my past Kindergarten classroom, which is now the front office.
Mrs. Susan Moran, my beloved Kindergarten teacher, counted me tardy 17 times in the 1st quarter of my Kindergarten year. I stood outside of the classroom welcoming students to school and walking lonely students to their classroom before rushing back to my class after the bell rang. I was a welcoming kindergartener who evolved into a compassionate principal at the school where it all started.
Now, I model the behavior I wish to see in my building. As a leader, my ultimate job is to love my staff so well that they in turn know how to love their students wholeheartedly. Education is supposed to be fun. Being around people is an energy source for me. Those two combinations should create a buzz around the building that I want people to feel the second they walk into Sequiota. To create a culture of kindness, anyone who attends Sequiota, staff, student, or otherwise, knows they belong here, that they are valued, and that we can't wait for their return.
It's hard to love and teach kiddos who aren't here. Creating strong relationships with students is one of the key factors to building strong attendance. Students don't want to miss out on all the fun of learning in their classroom when they know their teacher will truly miss them. In that same vein, a key life skill to being an employable adult is to be reliable and to come to work every day. Building that skill starts now!
When students are young, building strong attendance habits helps students become successful, employable adults. The true goal of education is teaching something that lasts a lifetime. Get your kids here and on time, and in turn, we'll love them and teach them for the future. Maybe they'll end up as a principal at SPS."