Return to Headlines
My SPS Story: Emmanuel Sarfo-Mensah, senior at Hillcrest High School
May 24, 2023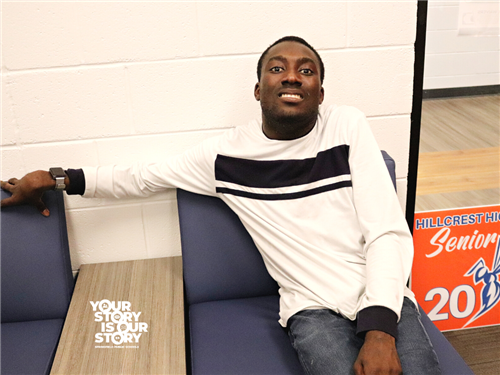 "So as a kid growing up, I've always wanted to be a commercial pilot. I remember as a kid, my dad noticed that I loved airplanes and would always buy me remote-controlled toy airplanes. I was born in a West African country called Ghana, and my dad was in the Ghana Armed Forces, so we lived on a military base. I was really interested in being a commercial pilot.
But as I was growing up, I started thinking critically, I started thinking like an adult, and I realized that I have physical limitations. I have cerebral palsy, so I had to choose a career that I could do, regardless of who I am or my physical abilities. So I gave up on my dream of becoming a pilot and had no idea what I wanted to do anymore.
So, when I started my high school career here at Hillcrest, as a freshman, I had to choose a career pathway, so I started exploring my options. I started thinking about becoming an FBI agent and making the world a safer place, but again, I realized my disabilities could limit me from becoming an FBI agent. But then I realized I am really good with computers. I love fighting crime, and I figured it out. That was it: Cybersecurity is perfect for me.
My Cybersecurity pathway teachers have been incredibly helpful in helping me succeed in this field. They provided me with a solid foundation in cybersecurity concepts and helped me develop the skills I need to be successful. For example, my pathway teachers provided me with hands-on experience working with different security tools and encouraged me to pursue certifications and degrees that will help me stand out in the field. After high school, I plan on going to Missouri State University to pursue a bachelor's degree in Information Technology because I want to pursue a career in security and become a cybersecurity analyst after high school.
Hillcrest is a school that I love, and it is and will always be my home. The best part of being a Hornet is that regardless of my physical capabilities, I never get excluded from anything my fellow students do. I always get included in any activities that go on here without even asking to be a part of them. I get treated like a normal kid without any disability. I am loved by my teachers, all my counselors, and all my close friends in SAAB, JAG and other groups I belong to here on the Hill.
Being a Hornet has been a great adventure in my life, but I'm ready for graduation."