Return to Headlines
My SPS Story: Daelin Cook, senior at Parkview High School
May 17, 2023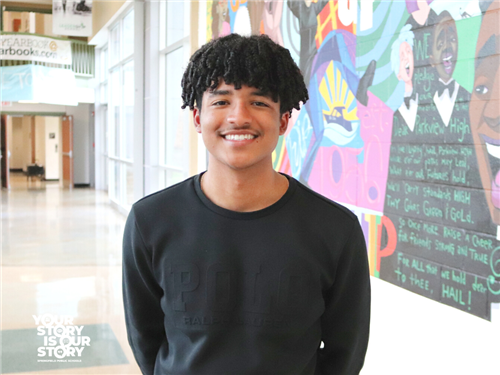 "My journey through high school has been an odd experience. I started out freshman year, taking classes, making friends, and going through the motions. It was a fun time. But then, all of a sudden, high school just stopped. It was weird. We went online, and then I had a lot of free time on my hands -- alone, at home. Then we came back, and the classes were smaller. Nobody would talk. I ended up going virtual for a semester.
Getting that break from regular school gave me time to reflect on my approach toward school. That time alone gave me a chance to reflect on what matters to me. Getting As felt good. Seeing As on Canvas felt good. I wanted to do well in school. So, I started striving for it.
My grades drastically improved because of the pandemic. I didn't want to break the streak of those As. All of a sudden, I was doing really well in my classes, so then I started thinking about what I could do if I got really good grades. I figured out MIT was a great school, so that became my goal: I wanted to get into MIT. I got into National Honor Society, started volunteering, looking for leadership opportunities at Parkview. College was never a priority to me before, but all of a sudden, it was my goal. I knew I could go to college if I did well. That made me feel good about myself.
I didn't get into MIT, but that's OK. I ended up getting into Mizzou, and I'll study Computer Science there. I want to build systems that are automated and use artificial intelligence. That's really interesting to me, innovating. I had to give a big speech in Ms. Cochel's English class, and I gave a talk about Thomas Midgley. He created a combustion engine that was better, even though it wasn't perfect. I want to design and develop something that makes a big impact. I'm in the Mechatronics program at the OTC Career Center, and I've learned all about automation and industrialized manufacturing. Systems are really intriguing to me.
I'm in Cabinet at Parkview, and I do Student Relations. That's leading anything that directly relates to the student body -- spirit week, homecoming, assemblies. Cabinet has given me the freedom to do what I want to do. Ideas that I had come to fruition and have an impact. It made me a better leader, a better person.
I want to be known as someone who is nice and pretty funny, a good person to be around. I changed lunch tables every year. I like being friends to different people, and I hate being bored. I'm really smart, and Parkview is a great school. I can't imagine going anywhere else."