Return to Headlines
80 seniors awarded Seal of Biliteracy and Distinguished Seal of Biliteracy achievement
May 16, 2023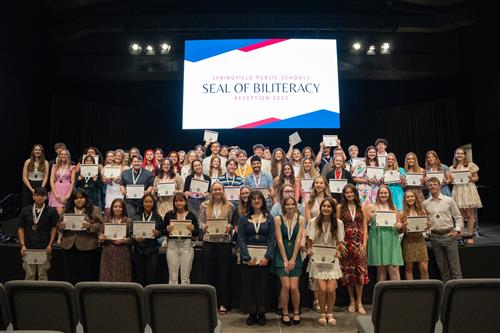 More students are graduating from Springfield Public Schools with a Seal of Biliteracy than ever before.
On May 11, 80 students received their Seal of Biliteracy or Distinguished Seal of Biliteracy award. To earn the seal, students took the AAPPL language proficiency exam and scored Intermediate or higher on reading, listening, writing and speaking a world language. With a high enough score, students can earn up to 18 credits of world language at participating Missouri universities who recognize the Missouri Seal of Biliteracy.
"Students who earn the Seal of Biliteracy are hard-working, dedicated, outstanding seniors," said Wendy Robinson, World Language Coordinator. "To have the most amount of SPS seniors ever to earn the Seal of Biliteracy shows our commitment to exceptional world language instruction and experiences for SPS students."
Seal of Biliteracy Students
Central High School
David Aleman
Amanda Gott
Alexandra Ocampo
Claire Bodnar
Shayla Frost
Isabel Gamble
Zane Prater
Annie German
Ian Morgan
Anne Kovacs
Jesus Giovanni Garcia
Jenna Skidmore
Isaiah Thompson
Spencer Henderson
Elisabeth Vancerin
Megan Liermann
Glendale High School
Ian Williams
Cole Vincel
Brenna Tarter
Ashlyn Nelson
Aracely Merlo
Allison Johns
Isabelle Eddy
Emma Favoni Miccoli
Aiden Bryan
Lauren Bloxom
Matilde Anselmi
Hannah White
Mason St. Clair
Evan Elliott
Collin Cameron
Maxton Gulje
Avery Burtin
Kickapoo High School
Yike Deng
Taylor Akers
William Colton Allen
Kiara Ausler
Sandra Baadsgaard
Savannah Baker
Taylor Brown
Avery Carnett
Garrett Catlett
Kelsey Catlett
Lauren Copelin
Cayci Evans
Camila Fuentes
MingHui Gao
Antonio Garcia
Caden Haustein
Alexandra Henry
Maya Hernandez
McKenna Hunt
Lucas Jordan
Georgia Journagan
Donna Kearney
Madeline Grace Keech
Julia Klein
Olivia Morris
Kate Nathalian Norman
Jadyn Parsons
Hollie Quackenbush
Ethan Riffle
Valerie Rivera
Claire Roberts
Emily Robertson
Rachel Schmieder
Brooklyn Scott
Isaac Smith
Contessa Trombetta
Masey Washington
Samuel Weiner
Morgan Wheeler
Parkview High School
Ella Terrell
Yanet Adan
Rebecca Llamas
Melissa Juan Castro
Manuel Salgado-Mendoza
Luz Ubaldo-Frausto
Said Melo-Mejia