Return to Headlines
My SPS Story: Shelby Stewart, special education teacher at Parkview High School
March 8, 2023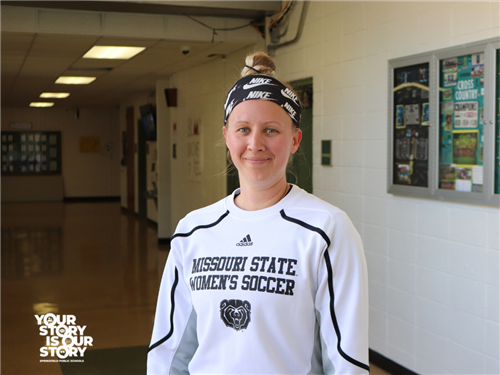 "Growing up in the SPS school district is something I've always cherished, from my time at Delaware Elementary to Jarrett Middle School and now at Parkview High School.
Starting out at Delaware Elementary, I was able to start developing my passion for working with kids with disabilities. As a student, I was paired up with a kindergarten buddy in the special education classroom who was wheelchair bound and spoke very few words. I remember other kids my age distancing themselves from special needs students due to them being different and not possessing the skill set to understand how to interact with someone who was viewed as "different." I looked forward to the moments I was able to spend with my kindergarten buddy every single day.
My experience with my kindergarten buddy inspired me and challenged me. It opened my eyes to challenges and obstacles that other people face and allowed me to be grateful for what I have. I didn't know at the time of my young age that it was shaping me for my career later in life.
Fast forward to Jarrett Middle School. I had played soccer for a huge chunk of my life up to this point, but mostly for YMCA low competition leagues. I just loved playing and having fun. Nothing too serious. Until I met Amy Rader, who insisted I try Springfield Soccer Club, now known as Sporting Springfield, because she thought I was worthy of playing at a prestigious club. I doubted myself at first, having never played a true club sport before. After having a discussion with my parents, I went for it. I tried out and I made the team. A huge accomplishment for me. I ended up finding success and continued to play through high school (I can thank Amy for ever pushing me to start it).
At Parkview, I participated in track, basketball and soccer, sometimes competing in a track meet and soccer game at the same time. I would run across from JFK stadium to the grass field. I broke the school record in the 4x100 meter relay -- which has since been broken again.I finished with one of the best records in girl's soccer history my senior year, while winning the conference for the first time ever in program history.
I was on the student advisory board, which allowed students to have a voice and connect with the superintendent as well as other schools. Attending Parkview was one of the greatest things I've ever done in my life because it allowed me to grow as a person through adversity and be exposed to diversity that helped shape me into who I am today.
SPS gave me opportunities to learn, be inclusive, help build culture, mold lifelong friendships, and instill character traits that I have used my entire life. There's not one single person I can attribute my success to throughout my career in SPS. I have been molded and mentored by so many outstanding coaches and teachers and that has put me on my current path, and I couldn't be more thankful for them believing in me. I started my journey as a student through SPS and now I'm finishing it as an educator and coach who strives daily to impact students and players' lives by caring for and believing in them even on their worst days."