Return to Headlines
More than 50 therapists provide occupational, physical and speech therapy services to SPS students
Sept. 30, 2022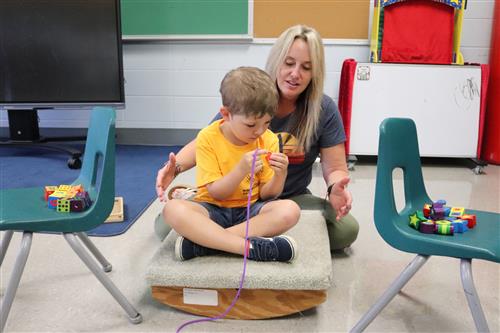 Ms. Lee sits down behind Logan as he plays a game.
One piece at a time, sitting on a balance board, the McBride Elementary first-grader grabs a small, square bead and places it on a string. He talks about the colors and the numbers he sees on each bead as Lee Groll, MSOT, OTR/L, gently corrects his posture.
It's a game with a purpose: encourage bilateral hand skills, cross over the midline, develop core strength and gain balance.
"As school-based therapists, we don't treat the diagnosis, we treat the deficit," said Groll. "My purpose is to determine the fine motor, visual motor and visual perceptual skills that are lacking in the classroom. Then, I provide direct services to increase these skills and educate staff on how to carry-over into the classroom, which supports students' academic success."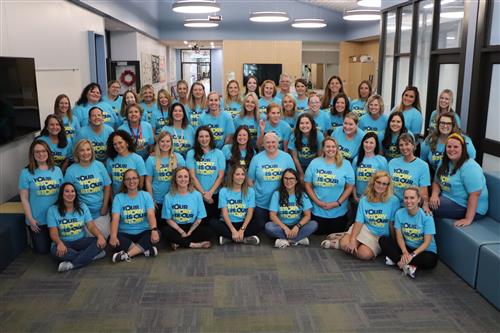 Ms. Lee is one of 57 therapists in Springfield Public Schools' Special Services department. A team of medical experts and school-based clinicians, these therapists specifically address the school-based physical, speech, and language needs of more than 1,500 Pre K-12 students districtwide, says Pam Marion, assistant director, therapy and related services.
"The students we serve have a wide variety of needs, but every one receives specific, strategic interventions to increase their functional needs and capacity," said Marion. "Our therapists do tiered interventions, providing support not just to students through special education but also support to general education staff as well. Our therapists solve problems with our teachers on how to help support success with their expertise every day."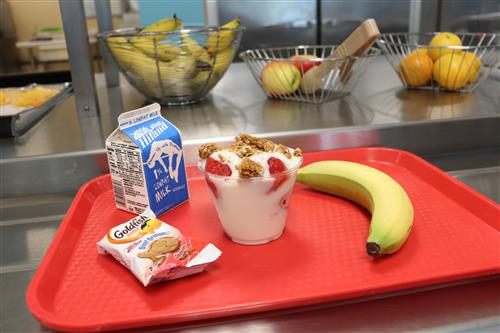 In a hallway at Mann Elementary, physical therapist Amanda Scott helps kindergartner Toby walk and balance up the stairs. One step at a time, she encourages him to be slow like a turtle, focusing on his spatial awareness and coordination.
Toby is one of 30 students Scott works with weekly at school to help students be successful, she says.
"School-based physical therapy is a related service that supports a student's ability to fully access and participate in their learning environment," said Scott. "We work on physical tasks needed for school accessibility, such as traveling through school, utilizing assistive devices and adaptive equipment, maintaining and changing positions. These are all important components that allow a student to fully participate in their education with their peers --which, ultimately, helps students achieve their educational goals."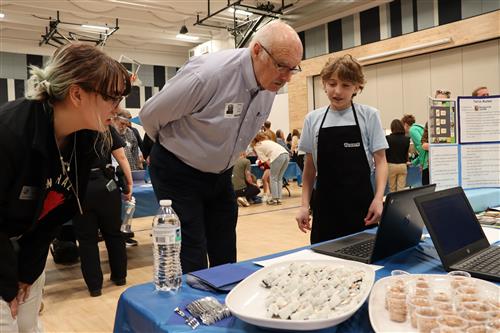 At Sequiota Elementary, Amy Lohman, M.S. CCC-SLP sits at a small table with two students: one struggles with articulation, the other with stuttering. Together, they play a game, rolling dice and composing sentences. Lohman listens intently as the students take turns saying a sentence aloud, providing gentle corrections and consistent, clear pronunciations.
Speech language pathologists make up the majority of therapists at SPS, supporting a huge variety of students' language and communication needs, says Lohman.
"Speech and language skills enable children to build positive relationships with peers and adults, as well as grow and learn through listening, talking and questioning," she says. "Understanding and using language is an integral part of learning that impacts every academic area. Plus, strengthening a student's speech skills has such a positive impact on their self-esteem and confidence levels. It is so rewarding when students begin to make progress and meet their goals!"
Amy Lohman, M.S. CCC-SLP became a school-based, speech-language pathologist because of an externship with Judi Palmer, a former Twain Elementary speech-language pathologist. Springfield Public Schools is always seeking more passionate school-based therapists to join our team. To learn more about open therapy and related service positions at SPS, visit sps.org/jobs.