Return to Headlines
Springfield Robotics wins $20,000 grant from 3M to expand STEM experiences
Sept. 21, 2022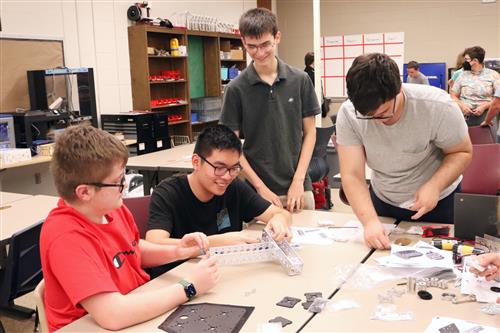 Kickapoo High School senior Caden Haustein has been involved with engineering since he was in elementary school. Robotics and being a part of a team? That's just fun, he says.
"Robotics is a fun way to practice programming in the real world," said Caden. "It's cool to see my work. Something I made moves, accomplishing a goal, built by a team. I like being competitive, and Robotics is one of the best parts of being at Kickapoo."
Caden is one of more than 35 students who participate in the Springfield Robotics Club, housed at Kickapoo High School. Earlier this year, the organization was awarded a $20,000 grant from 3M to promote STEM learning experiences to under-resourced students. The grant was awarded as part of 3M's Diversity and Equity program.
"Here at Kickapoo, we know that we are only successful as a whole if all those within our community have access to the same resources and opportunities," said Betsy Cannella, co-coach of Springfield Robotics. "Part of our focus is to bring more resources and opportunities to more diverse populations within our student body, our feeder schools and our community."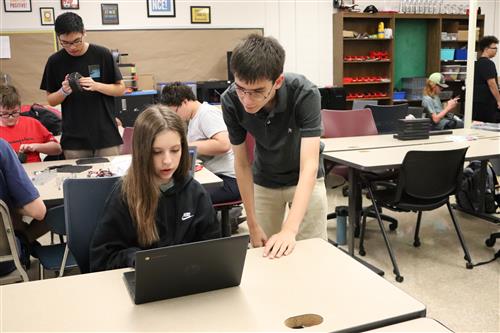 In addition to the major grant from 3M, Springfield Robotics received an additional $2,735 from the Foundation for Springfield Public Schools as a Back to School grant Sept. 16. The grant is specifically to fund any STEM related outreach program or club at Kickapoo, including funds for training other SPS teachers to bring competitive robotics to their elementary and middle schools.
Springfield Robotics co-coach and computer science teacher Scott Neeman is excited to expand opportunities for his student programmers in Robotics, as well as more computer science learning experiences for more diverse students.
"Life as we know it revolves around technology," said Neeman. "So it's important that everyone's voices be heard in the fields of science, technology, engineering and math that makes our world possible. That starts with reaching out and engaging students in STEM where they are, when they're young. That starts with more STEM experiences, for more students, at school."