Return to Headlines
Shady Dell Early Childhood school garden provides a place to grow, learn for Pre-K students
May 20, 2022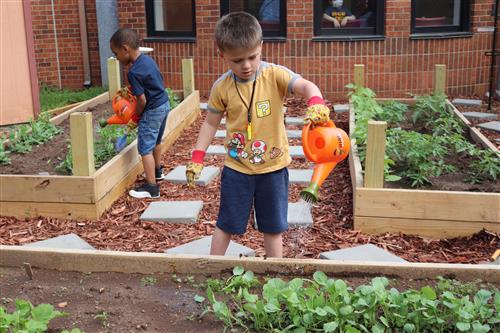 Ryker Norrell just turned five, and he loves radishes.
"We planted them in the garden from seeds," he says. "Then I ate them. I like them a lot."
Ryker is one of 19 students in Sherry Charbonneau's classroom at Shady Dell Early Childhood Center. The pre-kindergarten learners play and learn all school year at the center, but a courtyard space at the school was being under-utilized. Then, Charbonneau had an idea.
"Digging in the dirt just does something to your soul," said Charbonneau. "For me, it's a stress-relief, but for the students, it's a place to develop a love for gardening. It's a life skill, and here, they take ownership for their work. They want to know if the plant they see is from the seed they planted in the greenhouse in March."
In 2021, Charbonneau submitted a Back to School grant request from the Foundation for Springfield Public Schools. She received $2,595 to make her vision of a school garden come to life, purchasing toddler-sized wheelbarrows, shovels and gloves and raised beds to grow vegetables and flowers.
This May, students have harvested radishes and lettuce leaves to taste and try vegetables grown by them. Often, these vegetables are sliced and served as an option at snack time by Charbonneau, accompanying the garden-grown snacks with lessons on healthy eating and the life cycle of a plant.
It's another great example of a caring teacher who has a great idea receiving support, as well as how school gardens positively impact students, said Natalie Murdock, executive director for Foundation for SPS.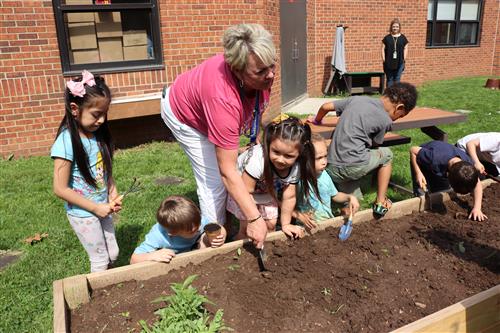 "Our youngest learners often have the most inquisitive minds and thrive in an environment that is hands-on," said Murdock. "Nothing is more hands-on than a garden! Supporting early childhood education has always been important to the Foundation for SPS and will continue to be a priority."
This summer, Charbonneau's priority will be watering Shady Dell's school garden, ensuring it will be thriving when her next class of pre-kindergarten learners begin their school year.
"When students, even pre-K students, do hands-on activities, that makes a difference to them and their learning," said Charbonneau. "My dream is that this garden, like my students, just continues to keep on growing, many years from now."