Return to Headlines
KHS Woodworking Showcase displays the best in student craftsmanship
May 16, 2022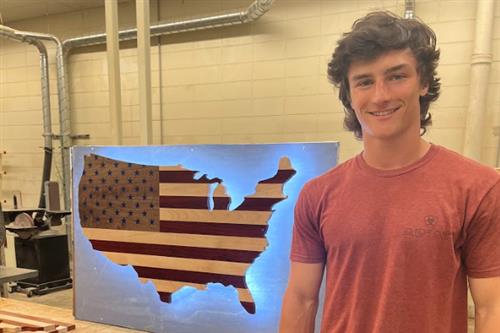 Kickapoo High School Woodworking students got a special chance to display their craftsmanship May 12.
At a special schoolwide showcase, Kickapoo teachers were invited to bring their classes and see the culmination of Advanced Woodworking students' hard work. The classroom was arranged with tables down the middle, stacked with projects that would fit on top. Larger student creations, like a desk, chest of drawers and gun cabinet, were on display throughout the space.
Senior Patrick Strong created a cedar dresser, a challenging project that took weeks to complete.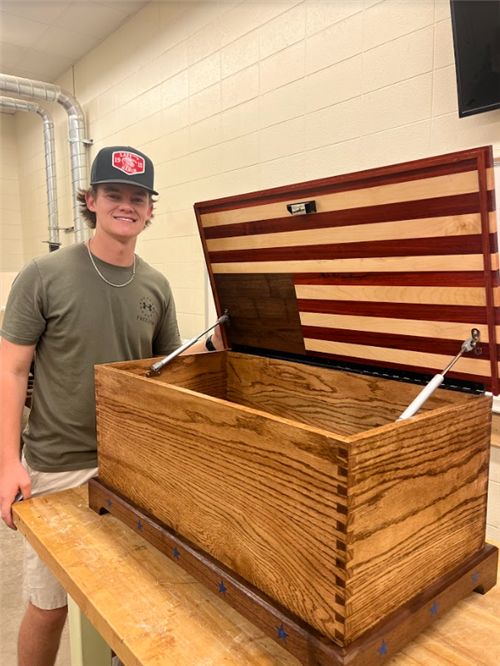 "This dresser took a lot of time and work," Patrick said. "Cedar was challenging to work with because it is a soft wood, but I like the way it looks. I installed soft close drawer slides because that is just a nice feature. I will be using this dresser at my house and plan to keep it for years."
Each Advanced Woodworking student displayed a creation, answering questions about the story of their project, the wood used, joinery and what they learned during the process. The showcase also benefited the KHS Technology Education program, said Kevin Ray, technology teacher.
"I heard the phrase over and over 'I didn't even know this was down here,'' said Ray. "More students are now aware of what can be built in a class such as this. We have a wide variety of projects, from cabinets to wall art, so now students know that only their imagination and work ethic are their limits."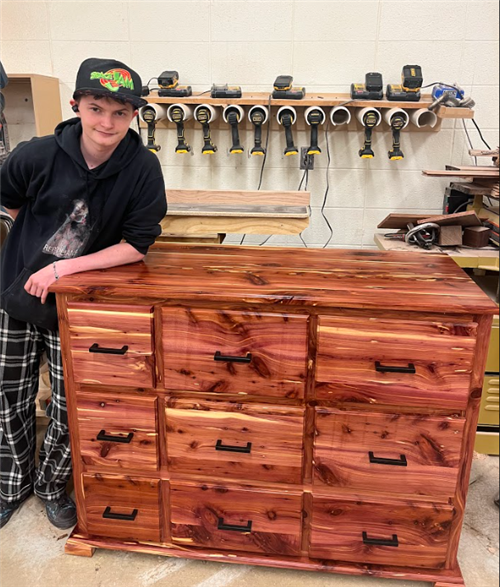 The Showcase also served as competition, with a team of experts and educators judging the quality of the work produced by Advanced Woodworking students. But every piece was incredible, said Leslie Helfrecht, KHS coordinator of site interventions.
"I was impressed by the obvious dedication the students had to their craft," said Helfrecht. "Dovetail joints, finely sanded finishes and creativity in choice of design and materials, this is a project and skill set that will stay with these students always."
KHS Advanced Woodworking Showcase Competition Results
First Place: Ryan Reddick
Second Place: Kolbi Thomas and Patrick Strong