Return to Headlines
McBride fourth-grader serves as Superintendent for the Day
May 16, 2022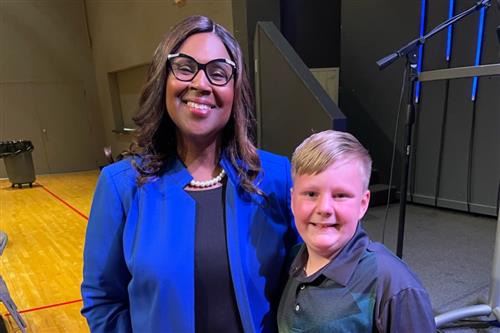 Springfield, meet Charlie Langston. We're sure you'll hear his name again.
Charlie, a fourth-grader at McBride Elementary School, shadowed Superintendent Grenita Lathan May 12. Last fall, Charlie used his own money to purchase tickets at McBride's School Carnival, winning the chance to be Principal for the Day Nov. 16. He had tried every year since kindergarten to win the prestigious honor; he knew he wanted to make an impact as a leader.
"Charlie loves to build up other people and wants to share McBride's story with the community," said Lael Streight, McBride principal. "He knows the impact a principal can have, and he wanted to share that with Dr. Lathan."
As Principal for a Day, Charlie greeted Dr. Lathan on her visit to McBride, leading a school tour and providing insight on why he loved his school. He shared insights on his teachers, his learning and his pride in being a McBride Mountain Lion.
Then, he asked Dr. Lathan an important question: "I know what it's like to be Principal for the Day, but I'd like to know what it's like to be Superintendent for the Day."
Dr. Lathan was so impressed with Charlie, she invited him to say the Pledge of Allegiance during a Board of Education meeting. As any inquisitive and ambitious person would, Charlie later followed up with an email to Dr. Lathan, thanking her for the honor, visiting his school and continuing the conversation.
"I would love to sit down with you and learn a little more about you, talking about shadowing you for a day, etc.," Charlie wrote in the email. "Please get back to me whenever you have time."
So, on May 12, Charlie got his chance and shadowed Dr. Lathan across Springfield. He took the stage and helped to update the community on SPS events and initiatives at the Chamber of Commerce monthly gathering Good Morning, Springfield. He greeted the Class of 2022 of Parkview High School during their commencement practice. He helped Dr. Lathan record an end-of-year message for students and families.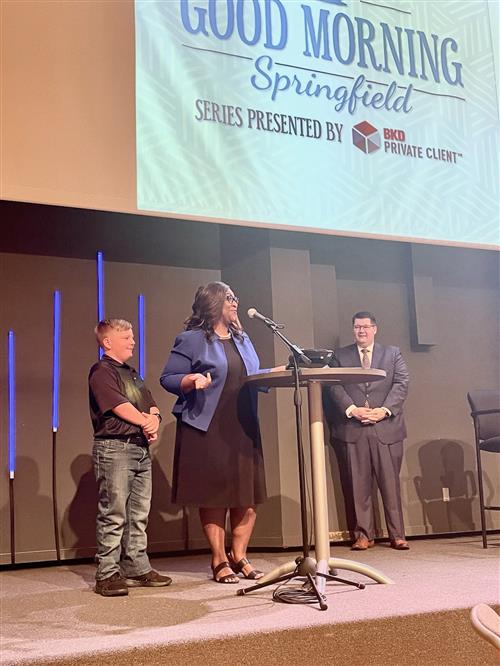 Then, he visited Sunshine Elementary, where he helped to surprise a student with a special recognition for winning the Elementary Bookmark Design contest for National Library Month. He went to Fremont Elementary, where he participated in a deep dive on academic achievement data with Principal James Grandon. Then, he went to Carver Middle School, where Dr. Lathan celebrated the Middle School Bookmark Design contest winner.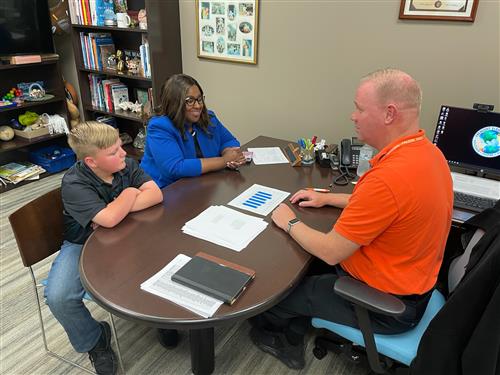 "Charlie is a sweet, sweet young man, and he's the future of Springfield, Missouri," said Superintendent Grenita Lathan. "He is a future leader and represents the best of Springfield Public Schools, outstanding students supported by engaged parents who see the best in people."
Charlie's mother Amy Langston was able to join her son's experience as Superintendent for a Day, watching as her son greeted the Teacher of the Year Nathan Cook at Parkview and singing with the Parkview choir. She was so proud of his experiences, and at the end of the day, Charlie was thrilled and exhausted. It was hard to be superintendent, he discovered.
"I learned lots about what it's like to be superintendent," said Charlie. "Dr. Lathan told me that we got to do the fun part, and I believe it, I can't imagine what the hard part is like. It was very fun and I can't tell you how cool it was. I can't believe all of this has happened. I feel so great and I want other kids to be encouraged to work hard and do big things.
I was thinking about maybe wanting to be a superintendent. But I'd love to be a basketball referee, too."