Return to Headlines
Westport students, families connect at Culture Celebration night
March 11, 2022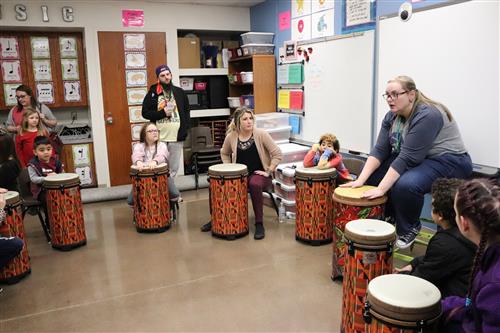 In a circle, Westport Elementary music teacher Meghann Elwood plays a beat on a tubano. Westport students answer her by echoing the beat.
"Before even cities, drums were used by different tribes in Africa to communicate," said Elwood. "So let's play the same beat together so that others can hear what we're trying to say. That's how another culture, in another time, would talk to each other."
On March 10, more than 450 students, parents and community members explored the cultures of different regions of the world at Westport Elementary School's Cultural Celebration Night. The event featured traditional dances by Grupo Latinoamericano and Taekwondo presentations, a food tasting featuring fare from around the world, Dickerson Park Zoo animals native to different continents, a maraca creation station and more.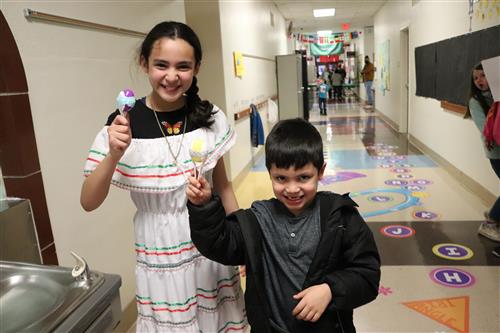 Each experience at the event was meant to deepen learning by students in the two weeks leading up to the Cultural Celebration. Every student in grades K-5 studied cultures from around the world, engaged in art, music, games and more. Determined by grade level, students studied a continent and then focused on specific activities to explore multiple countries, all leading up to a culminating event for families to learn, too.
"We have students from a variety of cultures within our school community," said Katy Shatto, Westport assistant principal. "This was a way for our students and families to see and experience different cultures. When we see and learn about other cultures, we see that they're not bad, they're just different. This is a fun way to celebrate those differences, learn about other cultures and showcase our student learning."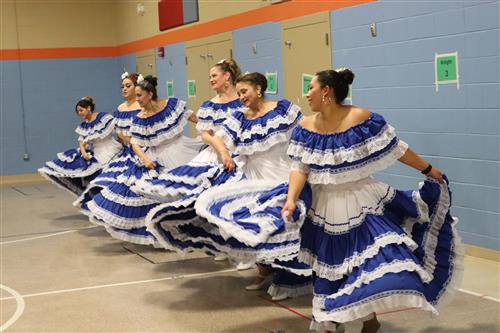 As part of the learning leading up to the event, Westport third-graders researched Germany, Spain and Ukraine, learning about the history and culture of each country to create both an artwork and written piece sharing their research. Students studying Ukraine were able to interview a Ukrainian citizen connected to Westport, asking specific questions to learn more about the present and past history of Ukraine along with their teachers.
Student teacher Ashley Hill loved seeing her students make real-time connections in the classroom and at the event, she said.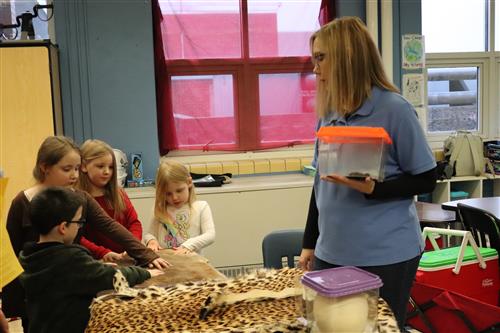 "So often, we get focused on our own bubble, our own learning and world," said Hill, who will teach fourth-grade at Westport next year. "This event allows students to see that we're all learning about new cultures, just in different ways. When we see what others are learning and other people's experiences, we get to look outside of ourselves. That's important for student learning."