Return to Headlines
SPS to Require Masking for Staff & Visitors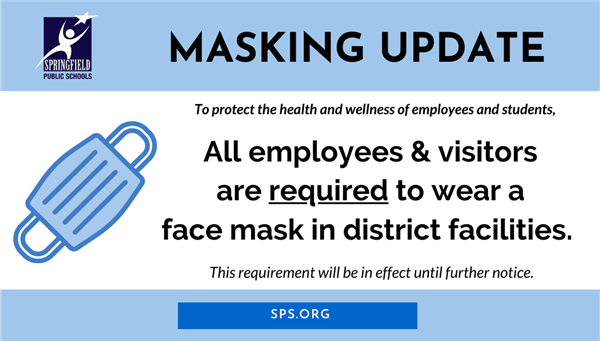 Jan. 14, 2022

SPS Staff and Families:
As we complete the end of the first full week of the second semester, this message provides an update related to the COVID-19 pandemic. Cases in our community are surging, and as expected, the surge is impacting the learning environment. On multiple days this week, SPS documented more COVID-19 cases in a single day than the district had experienced in any prior 7-day period. This trend culminated in today's absence of 20% of the SPS workforce and 19% of our student body.

Prior to the latest surge, public schools were already facing significant staffing challenges. Moving forward, the district will amend its COVID-19 protocols, as allowed, to help ensure the continuation of safe, in-person learning.
All SPS staff and visitors are required to wear masks

while inside district facilities, effective Tuesday, January 18. SPS will reassess the need for this requirement on February 4 and make an updated announcement at that time.

Please note that the Missouri Attorney General's cease-and-desist directives on December 8 apply to students and not to employees

.


Masking for students remains strongly recommended and masks are available for anyone who needs them. Please see this guidance regarding appropriate face coverings and how to ensure they are worn properly.



The district will

expand testing locations

and will provide an update next week. In the meantime, symptomatic students and staff may continue to receive free testing at a centralized location and appointments may be made through your school's nurse.
In addition, SPS will continue the following protocols already communicated to families on Dec. 22 and Jan. 3:
Masks must continue to be worn at all times while

riding public transportation

, including school buses and other district-provided options, due to a federal mandate.

Parents should continue to

monitor children for symptoms

of illness daily.

Students and staff exhibiting symptoms of any illness must stay home

until symptoms resolve and/or they are cleared by a medical provider to return. For more information on the related policy and procedures, please view the

handbook

.

COVID-positive students

will continue to be excluded from school and school activities for 10 days.

Students who are identified as

direct contacts of a COVID-positive individual

will be notified; however, they will not be excluded from school or work unless they are symptomatic.

SPS will continue to

report weekly COVID-19 cases

at

sps.org/covidstats

.

SPS will continue to monitor health conditions in schools and will

further modify its COVID-19 protocols

as the district is able.
If SPS is unable to provide appropriate staffing as the COVID-19 surge continues, please know that a transition to virtual learning for a limited period of time may be necessary for an individual classroom, grade level or school building. That decision will be made carefully, based on the district's inability to staff a classroom or school building, and will be communicated directly to those impacted.
As a reminder, all of the district's COVID-19 protocols are available for review here.
Thank you for your understanding, flexibility and grace as we continue to adapt and address the difficult circumstances posed by the pandemic.
We look forward to welcoming you back to school on Tuesday, January 18. In the meantime, enjoy your three-day holiday weekend as we honor the legacy of Reverend Dr. Martin Luther King, Jr.
# # #