Return to Headlines
GHS marketing students open, operate official Tournament of Champions merchandise store
The official @BassProTOfC Store is now OPEN! 🏀@glendaledeca students are folding, selling and leading the official apparel store for the No. 1 attended high school basketball tournament in the U.S. 🙌

SHOP NOW: https://t.co/EOyvO1X8d6 pic.twitter.com/O2uqXCTESF

— Springfield Public Schools (@officialSPS) January 12, 2022
On a typical Friday night, Glendale High School marketing students will sell $500 worth of school spirit gear at a football game. They manage inventory, complete transactions and interact with Falcon fans, all while generating a profit.
"The Tournament of Champions is huge in comparison to a Friday night at a football game," said Drew Replogle, GHS junior. "But selling apparel, running a business, that's what we do all the time in DECA."
On Thursday, Jan. 13, Glendale High School's DECA program will launch the official Tournament of Champions Apparel Store. The student-led business will serve fans of the nation's highest attended high school basketball tournament as the sole provider of official merchandise.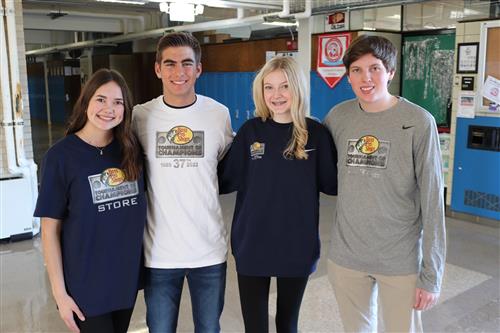 Springfield Public Schools Athletic Director Josh Scott was excited to support the opening of a TOC store – an idea that came about when his wife, Keely Scott, connected with Aundrea Hill, Glendale's marketing teacher and DECA advisor.
"Mrs. Scott works down the hall from me at Glendale, and we both were talking about how we needed TOC clothes to wear to the tournament this year," said Hill. "So, this all came about from a connection, networking, and personal contacts -- that's a lesson in business in itself."
Students ordered more than 800 pieces of custom apparel for the TOC Store in November, followed by a field trip to JQH Arena. There, they met Jeff Grevillius, the BearWear Team Store apparel/retail manager within the Arena. Thanks to his collaboration and Missouri State University's support of the use of its space, the students were able to secure a retail space within JQH for in-person sales.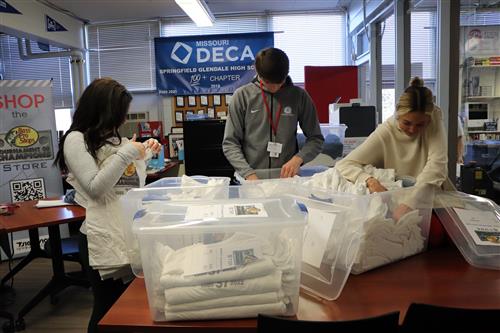 "Jeff has been phenomenal with us, so generous with his knowledge and expertise into this industry," said Hill. "With his support, my students have also learned through this experience that you have to work hard behind the scenes and make things happen to show you deserve the opportunity. But there's no better learning tool than trying to succeed and not fail."
When the TOC bracket was officially announced Jan. 6, four GHS juniors and leaders of the TOC Store were present to be part of the official kick-off of the TOC. Emma Harp, who serves as the TOC Store Manager, couldn't wait to show the four designs and launch the online store, tocstoreonline.com. Even in spite of a quickly resolved technical issue, the TOC Store launched and a first sale was complete.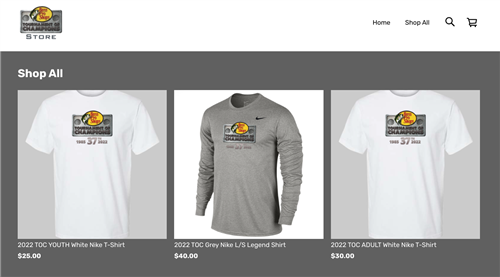 "I've always wanted to be a part of a business, to do something challenging, and this seemed like fun," said Emma. "It's been a lot of work, and it's a big opportunity to do something right. We bought a lot of inventory, but I think we're going to be successful."
From designing stickers on bags to shirt designs, from custom ordered signage to an official TOC Store logo, Glendale marketing students have total ownership of the Tournament of Champions store. And together, they've learned so much, says Olivia Chenevert, senior.
"I had no idea how much went into building a business from scratch," she says. "I've learned a lot about what all goes into a customer experience, that every detail matters. It's a lot, but it's a lot of fun. Now let's go make some money."