Return to Headlines
GHS Architecture students present to fellow Technology & Design Academy students during Architecture Exhibition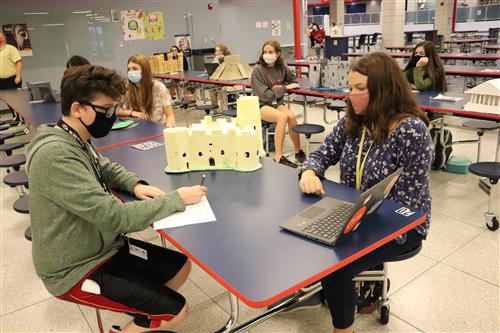 Kelly Rose rattles off facts about the Château d'If -- its construction date, history and cultural significance. But then the Glendale High School sophomore points to the tower -- of model she built.
"I'm a movie buff, so it's interesting to see all the elements of the castle that went into the movie," said Kelly. "The tower's important in The Count of Monte Cristo and in the actual castle's design. That's cool."
Kelly was one of 50 Glendale High School sophomores who participated in the Architecture Exhibition Oct. 7-8. Students in the Architecture pathway are members of the Technology & Design Academy at Glendale High School.
Architecture students spent four weeks researching, drawing, designing and building their models of historically significant structures they chose. Then, students presented their models to their peers in other Technology and Design Pathways, who were able to provide feedback on their models, Bennett Zink, Architecture and Design I teacher.
"This is a way for students to understand that architecture and history are interconnected, while also beginning to develop the skills necessary for architecture," said Zink. "This is the first time a lot of the students built a model, which is a skill they'll cultivate in the next two years. Plus, presenting your work in architecture is so important, and this is a great way to show students in the Tech & Design Academy what we're learning."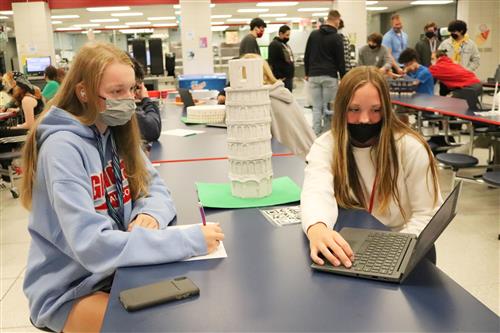 Students from Social Studies and Construction Trades classes attended the Architecture Exhibition and were able to ask Architecture students questions about their projects, including how they were constructed and their cultural significance.
Xelena Salazor built an intricate model of the Taj Mahal, her chosen structure to research. She discovered so much about the majestic tomb's history while creating her model.
"I learned a lot of fun facts about the Taj Mahal. I didn't know that it was a tomb; it's more of a tribute to the emperor's wife. I thought it was more like a fancy palace, it's like a memorial. This project surprised me."
Glendale High School is one of two SPS high schools with College & Career Academies, a learning model that previews college and career options to help all students plan their futures. For more information about Glendale and Hillcrest's College & Career Academy model, visit sps.org/academy.