Return to Headlines
Weaver Elementary principal Cindy Webster named NAESP National Distinguished Principal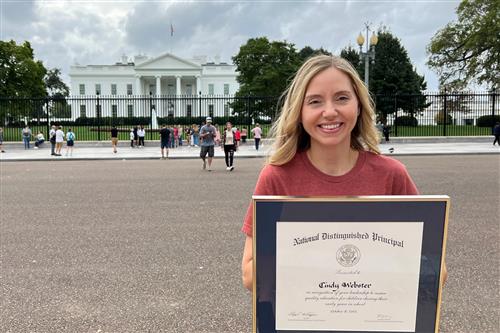 Weaver Elementary School principal Cindy Webster was named a National Distinguished Principal at special celebration in Washington, D.C.
Webster represented the Missouri Association of Elementary School Principals at the 2021 NDP program. Webster, who has led Weaver Elementary School in Springfield for the past 7 years, is being recognized for her collaborative leadership style and for significantly raising student achievement scores.
"SPS has grown me as a leader in multiple ways," said Webster. "The Elementary division has provided the best collaboration and teamwork to improve our effectiveness across the district. The sharing of ideas and best practices among colleagues has helped me address needs, such as improving student behavior, collaborating with parents, building community partnerships and so much more. I am so thankful for the opportunity to learn and grow with the SPS team."
Because principal leadership is key to student success, the National Association of Elementary School Principals recognizes accomplished elementary and middle-level principals from across the nation and abroad as a part of its annual National Distinguished Principal (NDP) program. The 2021 class of NDPs were honored during a two-day event in Washington, D.C. that culminates with an awards banquet on Oct. 8.
"I would consider Cindy to be the highest level of professional educator and leader," said J Anderson, executive director of elementary learning. "Her high hopes and desires for Weaver students and staff are surpassed only by her expectations of herself. She does not accept barriers as an excuse, and she's living proof that being intentional builds capacity and capability toward success."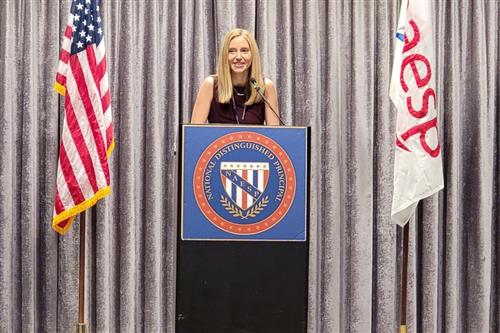 Principal honorees are selected by NAESP state affiliates and by committees representing private and overseas schools. Criteria for selection of the principals require that the honorees are active principals of schools where programs are designed to meet the academic and social needs of all students and where there are firmly established community ties with parents and local business organizations.
It is particularly fitting to acknowledge the work of principals in October because it is National Principals Month, which was established to recognize and honor the contributions of school principals toward the success of the nation's students, and encourage awareness of their significance.
"Today's principals are tasked with attending to students' social and emotional needs at greater levels, even while they give their all to drive academic success in their school communities," said Dr. L. Earl Franks, CAE, NAESP's executive director. "NAESP's National Distinguished Principals program recognizes the outstanding leadership of highly successful principals and is a heartfelt 'thank you' to outstanding school leaders."