Return to Headlines
U.S. Department of Education names Wilson's Creek a National Blue Ribbon School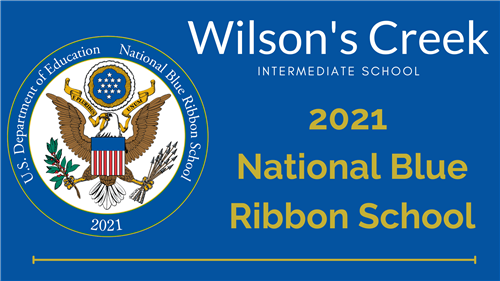 2021:
U.S. Secretary of Education Miguel Cardona announced today that Wilson's Creek Intermediate School is one of 325 schools named as
National Blue Ribbon Schools
for 2021. The recognition is based on a school's overall academic performance or progress in closing achievement gaps among student subgroups.
On Aug. 23, Missouri Commissioner of Elementary and Secondary Education Margie Vandeven visited Wilson's Creek to celebrate its status as a Missouri Gold Star School, which made the school eligible to apply for the National Blue Ribbon School award.
"This year's cohort of honorees demonstrates what is possible when committed educators and school leaders create vibrant, welcoming, and affirming school cultures where rich teaching and learning can flourish," said Secretary Cardona. "I commend all our Blue Ribbon honorees for working to keep students healthy and safe while meeting their academic, social, emotional, and mental health needs. In the face of unprecedented circumstances, you found creative ways to engage, care for, protect, and teach our children. Blue Ribbon Schools have so much to offer and can serve as a model for other schools and communities so that we can truly build back better."
The coveted National Blue Ribbon Schools award affirms the hard work of educators, families and communities in creating safe and welcoming schools where students master challenging and engaging content. Now in its 39th year, the National Blue Ribbon Schools Program has bestowed approximately 10,000 awards to more than 9,000 schools.
"This recognition is evidence of the outstanding teaching and learning that is happening at Wilson's Creek. Our school is one of only eight in Missouri to be honored with the 2021 award," said Dr. Grenita Lathan, superintendent of Springfield Public Schools. "I want to congratulate the students, teachers, support staff and parents at Wilson's Creek and thank them for all the hard work they have done to achieve this level of excellence."
The Education Department recognizes all schools in one of two performance categories, based on all student scores, subgroup student scores and graduation rates:
Exemplary High-Performing Schools are among their state's highest performing schools as measured by state assessments or nationally normed tests.
Exemplary Achievement Gap-Closing Schools are among their state's highest performing schools in closing achievement gaps between a school's student groups and all students.
Up to 420 schools may be nominated each year. The U.S. Education Department invites National Blue Ribbon Schools nominations from the top education officials in all states, the District of Columbia, Puerto Rico, the Virgin Islands, the Department of Defense Education Activity, and the Bureau of Indian Education. Private schools are nominated by the Council for American Private Education.
"I have been the principal at Wilson's Creek since it opened 16 years ago," said Dr. Karyn Christy, Wilson's Creek principal. "During that time, our teachers and staff have become a Dream Team, working together to create a disciplined, structured and nurturing environment that empowers every student to reach their full potential. Although we have faced challenges at times, we remain focused on building positive relationships and maintaining high expectations."