Return to Headlines
CHS Juniors begin their International Baccalaureate program with Junior Retreat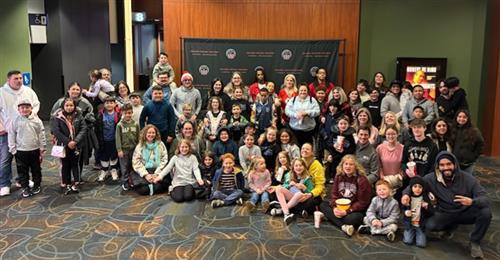 After a morning full of breakout sessions, meetings and exam registrations, Central High School juniors needed to unwind.
And In Dr. Gretchen Teague's classroom, 40 students entering the International Baccalaureate program found their footing -- literally.
"We begin by stretching our feet, which reminds us even when the world seems chaotic to ground ourselves," said Dr. Teague, Middle Years Programme coordinator. "Then, we practice balance through a variety of standing balancing poses. This reminds us that it is easy to get out of balance with our academic requirements and our extracurricular activities, but there should be a gentle give and take between all the pieces of our lives."
Yoga with Dr. Teague was one activity in the day-long IB Junior Retreat at Central High School. The annual development day helps students learn the necessary information about the core components of both the academically rigorous Diploma Programme and skills focused Career-Related Programme, said Molly Gray, IB coordinator at Central High School.
"This is their first opportunity to see the whole program together as a cohort and to build a sense of community as IB students as they begin their two-year journey through IB as they approach graduation," said Gray. "We cover program expectations, requirements and provide means of support from the IB staff and IB seniors."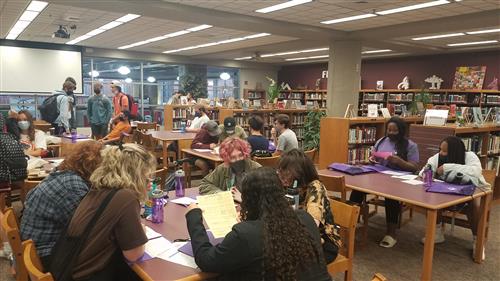 From detailing the Language Portfolio to defining CAS (creativity, activity, service hours), students learned how to earn the Diploma or excel in the Career-Related Programme, a framework that helps students gain the skills to be ready for apprenticeships or employment.
Service learning is a core component of the Career-Related Program, and more than 100 juniors completed an hour of service by completing grounds work around Central's campus. Together, they pulled weeds, dug up small trees and worked to clear encroaching plants, all working alongside IB seniors and CHS staff.
"One big aspect of IB is giving back to your community," said Sarah Gugliotta, CHS IB CAS Coordinator and Library Media Specialist. "When the students get outside of their school and get to work, it's powerful."
At the end of the IB Junior Retreat, all the juniors came together in the auditorium to hear from IB counselors about an important topic for everyone: stress management. Together, students learned about a variety of resources for conquering the last two years of high school -- academically, physically and mentally.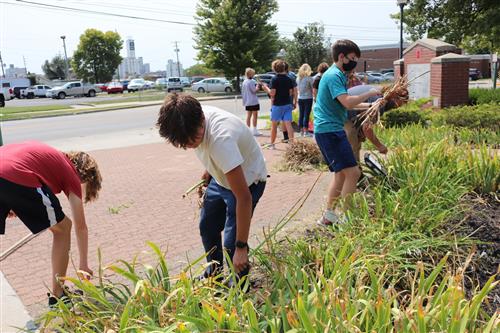 "The day is about painting the big picture of the experiences," said Dr. Teague. "The coordinators work hard to create a day that balances the need for students to gain understanding of the expectations of the programs, build social connections between their peers and to attend to the social, emotional and physical well-being of our community of learners.
The IB programmes strive to 'build communities...bound together by a common sense of purpose and identity.' This Retreat is just the beginning of all those goals."
At Central High School and around the world, International Baccalaureate Programmes encourage students to be internationally minded. The IB Diploma and Career-Related Programmes are rigorous, internationally recognized college-preparatory pathways for highly motivated students. Springfield Public Schools is the only district in the state of Missouri that has K-12 IB programming available, with a new pre-K IB programme at Boyd IB World School.