Return to Headlines
New Boyd Elementary celebrated with ribbon-cutting ceremony
Since 1908, Mary S. Boyd Elementary School has served the Midtown neighborhood. The school's impact and history were on full display at a special ribbon-cutting ceremony Sept. 9.
"For more than 100 years, Boyd has been the heart and soul of this neighborhood," said Superintendent Grenita Lathan. "We hope this beautiful, modern building will carry forward that historic tradition over the next century."
Standing steps away from Sherman and Division, more than 150 community members gathered to celebrate the official opening of the new Boyd Elementary School. In families and led by proud Boyd teachers, they walked past a historic mosaic relocated from their previous school.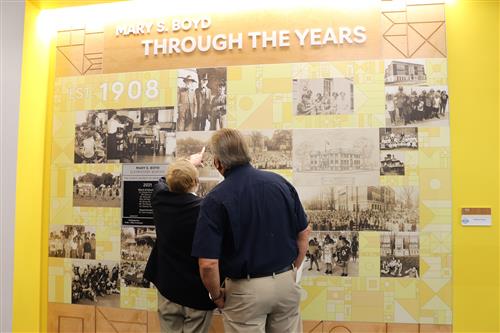 Attendees als viewed the Mary S. Boyd History Wall, created from photographs and stories shared by Midtown citizens, many of which attended the former Berry school -- where the new school sits.
"The Boyd staff and I feel privileged to help our students learn and grow in our extraordinary new school," said Dr. Angela Holloway-Payne, Boyd principal. "Our greatest joy comes from the sights and sounds of our students enjoying the simple things in their new school -- like gathering in their collaborative spaces, reading in every corner of the library, making music in the music room. And most importantly,they are learning academics and social emotional skills in an environment that is truly conducive to learning."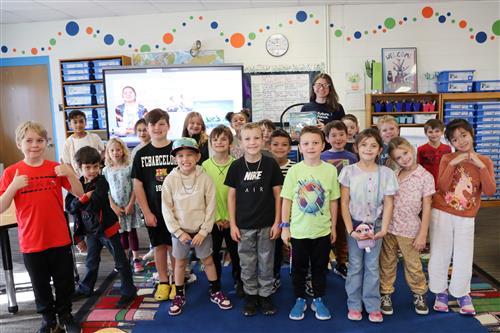 The $20 million facility features a variety of modern, collaborative spaces designed for interactive learning, as well as the first pre-kindergarten Primary Years Programme in Springfield. Four classrooms of early childhood education learners gather each day to learn and thrive in a space specially designed for their needs, while also providing free, high-quality preschool for nearby families.
From its intent to its design, the new Boyd school meets the needs of the Boyd community.
"This new school is not only a point of pride for this neighborhood, it's also a symbol of the Springfield School Board's commitment to doing what's best for kids," said Dr. Alina Lehnert, Board of Education president. "We believe that by investing in our students and schools, we are investing not only in Boyd's future, but in the best interests of Springfield."
Boyd Project Team:
H Design Group in collaboration with Hollis & Miller Architects

BP Builders

CJD Engineering and Olsson Associates
The school's new construction was made possible by Proposition S, passed by Springfield voters in April 2019. The approved bond allowed for $168 million in improving schools in Springfield's community, including the recently opened Adah Fulbright Early Childhood Center and nearby Sunshine Elementary School. For more information about current construction projects, visit sps.org/progress.