Return to Headlines
SPS to offer free COVID-19 testing for students, staff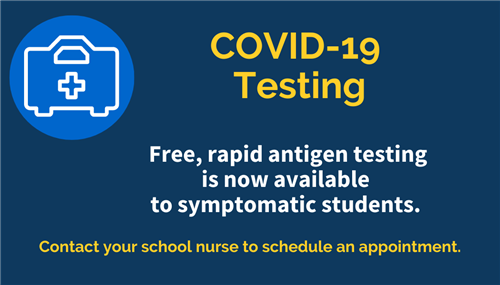 Springfield Public Schools is now offering free rapid COVID-19 testing for symptomatic K-12 students and staff. The tests will be conducted using a minimally invasive anterior nasal swab, will be administered by an SPS nurse in a centralized location, and will yield results in 15 minutes.
The testing process FOR STUDENTS includes the following steps:
Parents/guardians should monitor their children for COVID-19 symptoms daily. Symptoms include fever or chills; cough; shortness of breath or difficulty breathing; fatigue; muscle or body aches; headache; new loss of taste or smell; sore throat; congestion or runny nose; nausea or vomiting; and/or diarrhea.
If symptoms develop while students are at home, parents/guardians should keep their child at home and they should not report to school. If symptoms develop while at school, students should go to the school nurse, where they will be isolated while parents/guardians are contacted for pick-up. In both circumstances, parents/guardians may work with their school's nurse to schedule testing on weekdays.
To schedule a rapid antigen test, parents/guardians of symptomatic students should contact their school's nurse. The school nurse will confirm the testing appointment and let parents/guardians know when and where to report. Testing hours are 8 a.m. to 2:45 p.m. Monday through Friday when school is in session. If symptoms develop over the weekend, parents/guardians should contact their healthcare provider regarding other testing options.
Only one parent/guardian should accompany their symptomatic child and should present student identification upon arrival for processing. A specific time and location, along with other pertinent details, will be provided to parents by their school's nurse when a testing appointment is confirmed. Testing is limited to students and is not for other family members.
If a student tests positive, standard quarantine will begin immediately. If the test is negative, students will be given instructions regarding when to return to school.
The testing process FOR STAFF varies slightly: staff should stay home if symptomatic and contact their supervisor or school nurse to schedule a test.