Return to Headlines
Chief Human Resources Officer to retire in December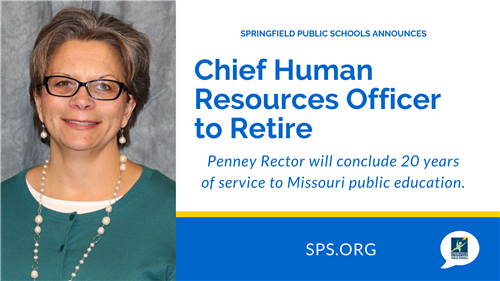 Mrs. Penney Rector, chief human resources officer for Springfield Public Schools, has announced her pending retirement from public education, effective Dec. 31, 2021, after 20 years of dedicated service to Missouri schools. Following retirement, Mrs. Rector plans a return to practicing law with a specialized emphasis in education, opening a Springfield office for Mickes O'Toole in 2022.
In her more than four years as chief human resources officer for SPS, Mrs. Rector has been responsible for hiring, onboarding, evaluating and supporting the diverse workforce of Missouri's largest school district, which employs more than 3,500 individuals. She also serves as the district's lead representative with five collective bargaining units.
"Mrs. Rector is a tremendous asset to SPS, just as she has been to many other Missouri school districts, faithfully serving as an advocate of public education throughout her career," said Dr. Grenita Lathan, superintendent. "Penney has a statewide network of educators who are familiar with her exceptional leadership. She initially considered retiring at the end of the 2020-2021 school year and I appreciate her willingness to remain in her role through the end of December to provide support with the transition. Penney will be greatly missed and we wish her continued success."
Prior to joining SPS in 2017, Mrs. Rector served as the assistant to the superintendent for human resources and legal counsel for the Jefferson City School District. Other experience includes overseeing legal services and government relations for the Missouri Council of School Administrators (MCSA), Missouri Association of School Administrators (MASA), and Missouri Association of Elementary School Principals (MAESP). A graduate of the University of Missouri - Kansas City's School of Law, she began her career in the Office of the Missouri Attorney General.
"It has been a tremendous honor and privilege to serve with such outstanding teachers, staff and leaders who give their all each and every day to meet the needs of students," said Mrs. Rector. "Our future is bright at SPS, and I look forward to supporting the district in new ways as we continue to move forward."
Next Steps
The Board of Education has accepted Mrs. Rector's letter of retirement and SPS administration is currently evaluating a transition plan and related timeline. For more information, visit
www.sps.org
.