Return to Headlines
Wilson's Creek Intermediate celebrated by Missouri Education Commissioner on first day of school
2021:
Wilson's Creek Intermediate School received a top academic honor for a school in Missouri -- and a special visitor on the first day of school.
On Aug. 23, 2021, DESE Commissioner of Elementary and Secondary Education Margie Vandeven joined the Pride at Wilson's Creek Intermediate School to celebrate its Gold Star School status.
"I want to thank you. I want to thank your community. I want to thank our teachers," Commissioner Vandeven said to the 460 students gathered in the front of their school. "I want to thank leadership for all the wonderful things that you do to create a great school for our kids in the state of Missouri."
Earlier in August 2021, the Department of Elementary and Secondary Education (DESE) announced eight Missouri Gold Star Schools for 2021. The program, which aligns with the National Blue Ribbon Schools Program sponsored by the U.S. Department of Education, recognizes schools for outstanding academic achievement or for performing at high levels while serving a significant proportion of disadvantaged students.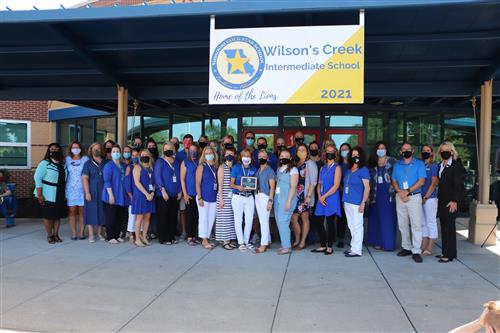 Blue Ribbon and Gold Star Schools demonstrate that all students can achieve at high levels.
"I have been the principal at Wilson's Creek since it opened 16 years ago," said Dr. Karyn Christy, principal. "During that time, our teachers and staff have become a Dream Team, working together to create a disciplined, structured and nurturing environment that empowers every student to reach their full potential. Although we have faced challenges at time, we remain focused on building positive relationships and maintaining high expectations."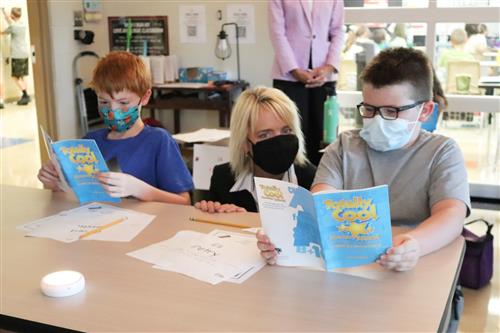 In 2021, Missouri chose to recognize high performing public schools serving fifth through eighth-grade students that met the criteria outlined for National Blue Ribbon Schools in English language arts and mathematics: academic excellence and a consistent, proven commitment to closing the achievement gap with under-resourced students.
As a Missouri Gold Star School, Wilson's Creek will go on to compete to be named a National Blue Ribbon School, a top honor for a school, its students and staff, as well as its school community.
And that's why everyone got ice cream for lunch on the first day of school -- because the celebration of student success is just getting started.
"Springfield Public Schools has high expectations for success for all students, combined with a focus on mastery, rigorous assessments and data-driven instruction, and I'm extremely excited for Dr. Karyn Christy and her faculty," said Dr. Ron L. Woodard, executive director of secondary learning. "Wilson's Creek has demonstrated high academic proficiency in reading and math for a number of years, and it is amazing to earn this prestigious distinction from DESE in honor of their accomplishments."