Return to Headlines
CHS, GHS students showcased at Student African American Brotherhood event
A Video Compilation Capturing Highlights From Our Recent SAAB Springfield City-wide Meet & Greet! Kudos To Mrs. Francine Pratt For Creating This Incredible Keepsake! Enjoy! 🙏🏽😅#SAABStronghttps://t.co/P8jvq67LY3

— SAAB National HQ (@SAABHQ) April 29, 2021
Dress in the manner you wish to be addressed, that's what Dr. Tyrone Bledsoe likes to tell young men.
It's what he put into action on Tuesday, April 27, at the SAAB (B2B) Springfield Citywide Meet & Greet.
The formal celebration was the first annual event of the Springfield city-wide chapter of the national organization, newly headquartered in Springfield, said the SAAB national founder and CEO.
"For many of those students, it was their first time ever wearing a suit," said Dr. Bledsoe. "Wearing a suit, dressing for an occasion, those details are important because we want them to understand the value and importance of image in society. Many of those young men desire to go into business, into leadership, and into the larger marketplace of careers and the larger world. To engage someone for what you want, you have to dress accordingly."
Students from Central and Glendale High School joined students from Evangel University and Missouri State University at a special event, debuting each school's SAAB leadership team to Springfield civic and community leaders. More than 30 suits were coordinated by the Community Partnership of the Ozarks and distributed by John Suit Shop to empower young men of color and under-resourced students to present the strategic goals for their school's SAAB chapter. Each presentation gave students a voice to articulate their goals for their own group given SAAB represents the essence of a youth activation model.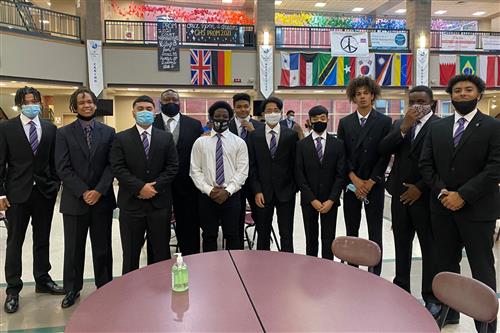 School chapter goals presented by chapter leaders included: all SAAB members graduating on time, pursuing a profession or providing an inclusive group on their campus for under-represented students, said LA Anderson, equity and diversity coordinator for SPS.
"This was the first year we've had a SAAB chapter at an SPS high school, and we piloted Central and Glendale to see how our students would respond to the model," said Anderson. "Even during this year, it's been exciting to see how our students have flourished within SAAB. Our students appreciate the opportunities and connections they gain to the community now, but also the support they receive from each other to help them reach their goals in life."
Dr. Bledsoe received compliments from a number of attendees at SAAB's citywide event. Mayor Ken McClure, Missouri State University president Clif Smart and a number of community stakeholders in attendance shared how impactful and impressive SAAB members were in Central High School's commons.
But these SAAB members are just the beginning of what can be expected of our participants around the city, he said.
"We want these young men to become outstanding citizens and talent that we, as a community value and embrace," said Dr. Bledsoe. "We want them to be contributing citizens that invest in their community, not just financially, but morally and otherwise. SAAB has been around for more than 30 years to model what appropriate manhood looks like. The impact SAAB has made on Springfield is just the beginning of so much more to come."
SAAB is a national student organization that has more than 350 chapters in the United States. Founded in 1990 SAAB mentors African American, students of color and students from diverse backgrounds by developing leaders while promoting brotherhood and advocacy for our communities. SAAB moved its national offices to Springfield (downtown on the square in the Missouri State University office building) in June 2020 and is a Partner in Education with Springfield Public Schools in support of Focus Area 5 of the SPS Strategic Plan.