Return to Headlines
Westport Elementary wins SPS Reads Challenge with 46,000+ pages read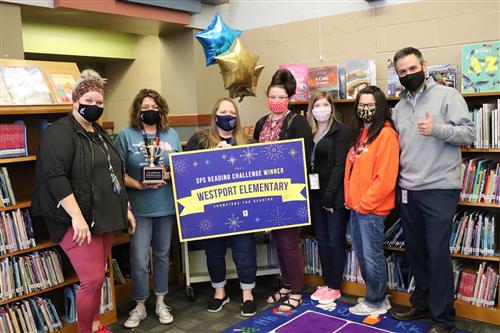 Westport Elementary School Wildcats are the big winners.
On Friday, March 26, Westport Elementary School leaders and readers were presented with the Champions of Reading travelling trophy as winners of the 2021 SPS Reads Challenge.
For the three weeks leading up to Spring Break, elementary schools across Springfield were invited by SPS Elementary leaders to find innovative, imaginative ways to encourage their students to read. There was only one rule: get students excited about reading, says Dr. Mike Methvin, director of elementary learning.
"We challenged our principals to come up with some outrageous, exciting schoolwide reading activities to encourage a real joy for reading," said Dr. Methvin. "Our schools did a phenomenal job embracing the challenge, with so many engaging and exciting celebrations of reading across the district. But the Westport team took it to another level."
In three weeks, Westport Elementary School students engaged in a number of immersive reading experiences, which they shared on Twitter with #SPSReads.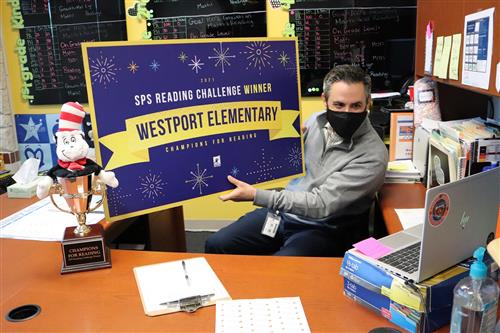 Wildcats had a guest read-aloud from Louie, the Springfield Cardinals mascot, as well as Boomer the Bear from Missouri State University. A Readers are Among Us theme day encouraged creativity with reading, and classes faced off to read the most pages, books and more. View examples of their reading fun here.
In total, Westport Wildcats read 46,000 pages in one week of the challenge, leading to an increase of Westport's library book circulation by 47 percent.
"Our teachers took to this reading challenge because our reading team create fun and engaging activities for all of our students and staff," said Jill Dennison, principal of Westport Elementary. "But we also have had a really intense focus on math as a school this year. The challenge gave us an opportunity to focus on reading and literacy with our students, while having a lot of fun."
Westport was one of more than a dozen SPS elementary schools who went all in on the SPS Reading Challenge, including three Super Reader Schools. Mann, McGregor and Weller Elementary Schools all engaged in consistent, schoolwide fun to encourage literacy, and every SPS elementary school can compete for the Champions for Reading trophy in 2022.
Because when students love reading, everyone's a winner.
"We know the impact that reading has on a student's future, and our teachers created some serious energy and enthusiasm around this challenge," said Dr. Methvin. "When it's done right, learning and fun should go hand in hand. We are looking forward to making this an annual event as we head into Spring Break each year."