Return to Headlines
Williams Elementary Boys & Girls Club Has A Name: the O'Reilly Unit
The new Williams Elementary will be home to the newest Boys & Girls Club of Springfield, named for a Springfield family: The O'Reilly Unit.
Boys & Girls Clubs of Springfield announced that their capital campaign goal of $1.2 million has not only been reached, but exceeded. The campaign, Invest in Great Futures, raised a total of $1,310,700 in less than a year during the COVID-19 pandemic. This is the organization's first capital campaign since the Sertoma Unit Capital Campaign at Sherwood Elementary.
The focus of the fundraising effort was to build a new Club at Williams Elementary in the Tom Watkins neighborhood. With the recent bond issue passing, BGCS had the opportunity to strengthen their partnership with Springfield Public Schools. Williams Elementary is currently undergoing a renovation and reconstruction. Proposition S was a $168 million bond proposal for Springfield Public Schools, which will fund facilities improvement projects at more than 35 schools. Needing about 57 percent approval, it passed with over 60 percent.
The conversation about better serving Williams Elementary students began in February 2019. At a meeting with Springfield Public School Superintendent, Dr. John Jungmann identified Williams as a high-need school that would greatly benefit from a Boys & Girls Club. He stated, "The Sertoma Unit has served as an excellent model for before and after school care."
Through a major gift of $500,000 from the O'Reilly Wooten Family, the new Club will be named the O'Reilly Unit at Williams Elementary. The O'Reilly Wooten Family and BGCS are also excited to launch a new workforce development program with the opening of the new Williams Club that will make an impact on the lives of many Club families.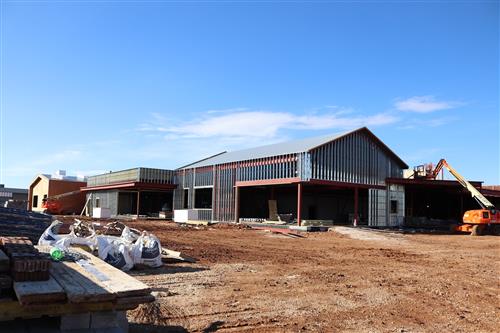 "It is difficult to adequately express my gratitude for the O'Reilly Wooten family and this community. It was an integral part of our organization's vision to expand services and better serve our kids and families. The O'Reilly Wooten family helped make this vision a reality. They have always been very supportive and what is so special about this relationship is that the O'Reilly Wooten family is not just passionate about our mission, but they are also actively committed to helping us launch an intentional workforce development program that has the potential to change the trajectory of local family's lives," said Brandy Harris, CEO of Boys & Girls Clubs of Springfield.
"As a family, we are all thrilled to be a part of this incredible project and to assist with the amazing work of the Boys & Girls Clubs in supporting, lifting and shaping the kids and families in our community that need it the most,' said Tim O'Reilly, Chief Executive Officer at O'Reilly Hospitality Management, LLC. "Personally, I am also looking forward to my company working with the Club to initiate the workforce development program, where we can help Club kids and their parents prepare for and find employment opportunities and fight for a better future. This project is just all around a win, win, win for our community."
The O'Reilly Unit will have a 4,000 square foot dedicated Club space and use approximately 18,000 square feet of shared school space, such as the gym, cafeteria, tech lab, library, restrooms, art room and other designated areas.
Construction started in June 2020 and is expected to be completed by May 2021. The Sertoma Unit has been a very successful model and the intention is to use some of those successes to guide the direction of the Williams project.