Return to Headlines
HHS, CHS Student Broadcast Journalists Win National Awards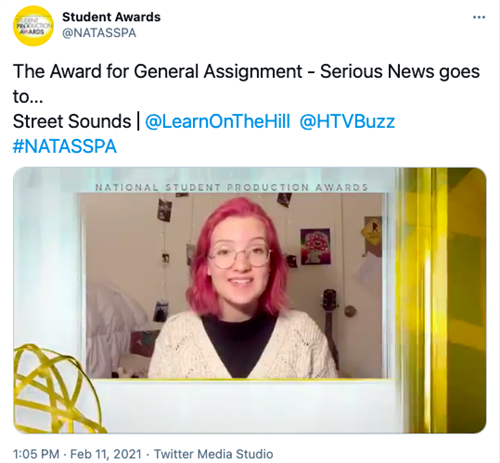 "Street Sounds," a Hillcrest High School student-produced HTV Magazine story, won a prestigious national award -- an Emmy, awarded by the National Academy of Television Arts & Sciences.
Former Hillcrest High School students -- Anna Cochran, Anna Daniel and Leanna Teudan -- produced the video story "Street Sounds" for HTV Magazine in December 2019. The story highlights a choir with members from Springfield's unsheltered community.
The production was selected as one of five finalists for a National Student Production Award by the National Academy of Television Arts & Sciences – The Emmys (NATAS) in the General Assignment -- Serious News category.
"This is HTV's fourth national award from NATAS in addition to over 30 regional winners," said HHS broadcast journalism adviser, Dave Davis. "It is about as big of an honor as a high school program can receive. We are thankful for the cooperation of the leaders of the Springfield Street Choir and its members."
Watch "Street Sounds" here: https://htvbuzz.com/street-sounds/
In addition to competing in the NATAS, student journalists at Hillcrest and Central High Schools were recognized by the Student Television Network.
The staff of "HTV Magazine" received the Student Television Network's "Broadcast Excellence Award," announced via a webcast awards ceremony hosted by STN on February 13.
This is a national honor for the top broadcast news shows in the nation. The winning show was HTV #251, aired in October. This was Hillcrest's eighth "Excellence Award" from STN.
CHS and HHS students also participated in timed, virtual events in a nationwide contest Feb. 15-16, the Student Television Network National Convention. Media students competed against 100+ schools from across the country to produce dynamic broadcast journalism in a short amount of time.
"These students competed in most of their events from home during the heaviest days of snows and ice," said Josh Cantrell, CHS media adviser. "They really busted it to represent SPS this weekend."
Central High School STN Winners:

1st Place in Crazy 8's Podcast
Kennasyn Ray
Jenna Higgins
Derek Saiko
Jacob Tetlow
Elijah Conaway
1st Place in Weather Report
Elizabeth Swords
Grace Tyau
Derek Saiko

2nd Place in Music Video
Kennasyn Ray
Paige Horton
Elijah Conaway
Jordan Quirk
2nd Place in Tell the Story News Editing

Hillcrest High School STN Winners:
2nd Place, Short Documentary
William Wehmer
Emma Tracy
Madeline Summers
3rd Place, Commentary