Return to Headlines
Marty Marsh Awarded SW Athletic Director of the Year
The expansion of middle school athletics and activities at Springfield Public Schools over the past few years was guided by Marty Marsh, SPS assistant director of athletics. His efforts to successfully implement this initiative are among the reasons he was named Middle School Athletic Director of the Year for the Southwest District of Missouri.
"Marty was nominated for his great work aligning our nine middle schools with the MSHSAA. He led the initiative five years ago to transition those nine middle schools from inner-district leagues to MSHSAA membership and competition," said Josh Scott, director of athletics. "Marty led the addition of cross country, wrestling and archery programs to our middle schools."
Expansion of the archery program was a particular success with more than 900 SPS students participating in 2019-2020. Marsh was instrumental in organizing the annual tournament which allowed students to safely compete on one school day, Scott noted.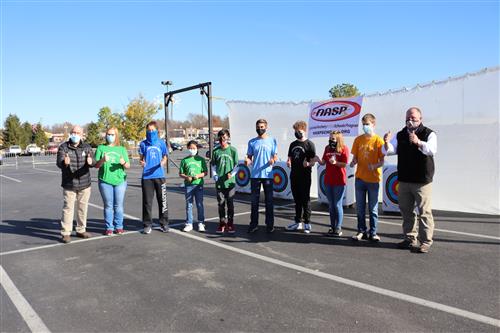 Marsh, who has served for 12 years as assistant athletics director, manages scheduling for football, cross country, volleyball, boys and girls basketball, wrestling, track and archery for middle schools. He is also responsible for coaching evaluations, and he organizes and oversees both in-district middle school championships and area tournaments. Marsh earned his CMAA through the NIAAA by highlighting the steps taken to increase opportunities for middle school student-athletes.
Each of Missouri's eight districts have one middle school athletic director award for the region, and then from those a Middle School Athletic Director of the Year will be selected.
"I work with a great group of people, and I have had tremendous mentors. Truly this award is a reflection of the people who I get to work with each day. It's a meaningful award to me because my peers were the ones who selected this." said Marsh. "To have athletic directors from across Missouri recognize my position and the job that I do is certainly an honor. There's no better recognition than those doing the job recognizing what you do, because they're setting the bar high."