Return to Headlines
Williams construction marked with beam topping ceremony
.@Williams_SPS construction marked with beam topping ceremony 🚧 https://t.co/bk2u6Frrb3 pic.twitter.com/EmPTmpmikA

— Springfield Public Schools (@officialSPS) January 7, 2021
Williams Elementary School students and staff gathered outside for one purpose: to be a part of their school's history.
"It's like a time capsule of the build," said Aaron Keeton, superintendent of the Williams construction project. "Their signatures will be a part of the building forever."
On Jan. 6, Williams students and staff joined Nabholz Construction for a special beam topping ceremony at the Williams construction site. Together, they signed a steel beam that will forever be above the main entrance of the new school.
"It was a great way for our students to connect with the construction of their new school," said Amanda Desa, Williams principal. "For many of our students, they had never been on a construction site before. This was a way for our students and staff to connect with the space and feel like they're a part of the new school, even as it's being built."
The Williams community and Nabholz Construction, Sapp Design and Paragon Architecture team members were invited to sign a steel beam. Then, they watched as the beam was placed, with an American, Williams Mustangs and Nabholz Construction flags waving above.
After, attendees were able to safely tour the Williams construction site with Nabholz Construction team members, who identified what spaces would be rooms. Teachers were able to see the framework of their future classrooms, and students walked on the foundation of their future school home. With each step, they gained awareness and pride in their new building, said Desa.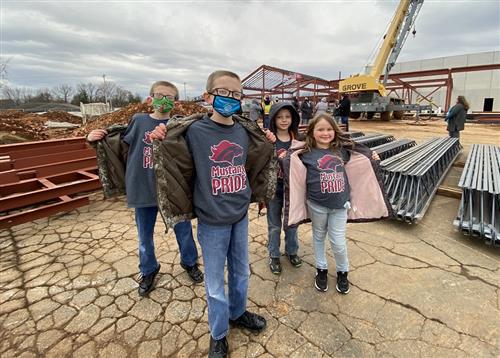 "For us in construction, this is a way for us to celebrate a milestone," said Keeton. "Having this moment helps us celebrate that we're one step closer to a finished project, while the community gets to have that ownership of the process. Being a part of the process of having a beam set, signing it, it builds that ownership in the community. It's their building."
In April 2019, Springfield voters approved Proposition S which enables Springfield Public Schools to make facility improvements to a number of schools, including renovation and expansion of Williams Elementary. The expansion will include space for an early childhood hub at an estimated cost of $3.65 million. Renovation cost are expected to be $14.32 million. The facility will serve up to 350 K-5 students and 100 pre-K students. Learn more at sps.org/progress