Return to Headlines
Performing Arts Academy students receive behind-the-stage tour of Hammons Hall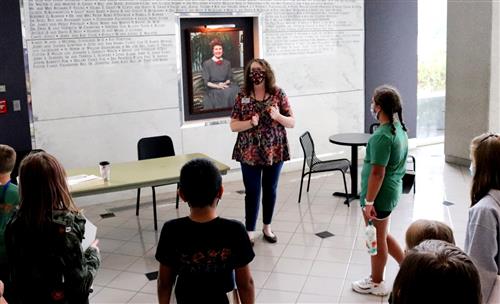 Juanita K. Hammons taught first grade at McDaniel School for years in the 1940s.
Decades later, the school where she taught became the Judith Enyeart Reynolds School of the Performing Arts for Springfield Little Theatre -- where 50 Springfield fifth-graders learn year-round in the Academy of Fine & Performing Arts (AFPA).
On Oct. 9, those fifth-graders walked from McDaniel Street to Hammons Parkway to visit the Juanita K. Hammons Hall for the Performing Arts.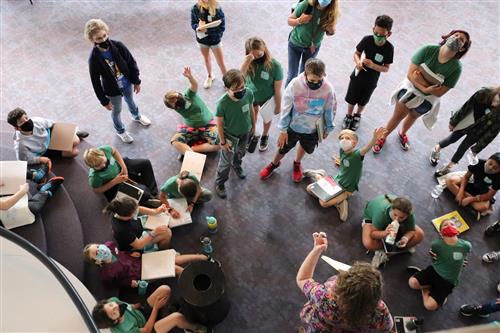 "For more than 25 years, Hammons Hall has been a presenting stage for all kinds of acts, shows and performers," said Anjanetta Nowell, director of sponsorships and educational programs. "This space was designed to make the audience feel something in every space, even down to the huge exterior windows. They were designed to curve and emulate our grand drape, so we call them our glass curtain."
With sketchbooks and pencils out, students were taken on a detailed tour of the design and function of Hammons Hall. From acoustics design in the auditorium to a towering chandelier, students were encouraged to draw what they saw and ask questions about specific construction elements in performing spaces.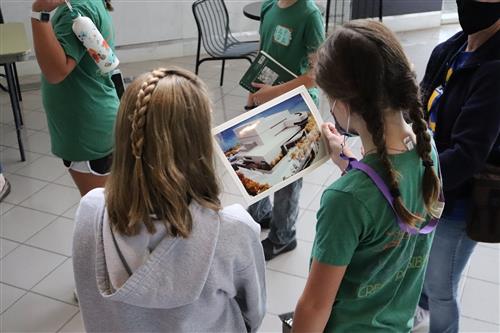 "It was fun to see how the building was made and it was a lot different than normal buildings. There were lots of different shapes, like wavy lines," said AFPA fifth-grader Jenna Pruitt. "I like being able to do art projects like this and being able to go on field trips, but acting is probably my favorite thing we do at school."
Twice a week, AFPA students attend theatre class -- but next week, students design, develop and construct a building model in their architecture unit. Their field experience at Hammons Hall, the Gillioz and others help their learning come alive, said Liza Gray, AFPA teacher.
"We've toured many stages in Springfield, and with every tour, they're making connections," said Gray. "When they see the same ancient technology or use of space for stages, over and over, they're making those connections. They start seeing architecture and design everywhere, and then they start creating themselves."