Return to Headlines
HHS Phase I and II Construction to be Complete, votes Board of Education
Phase I and Phase II renovations will soon be complete at Hillcrest High School by December 2022, thanks to excess bond funds.
On July 23, Springfield Public Schools accepted bids for the construction of Phase I of Hillcrest High School. This project was the first of two phases to be completed at the north Springfield high school, with $24.75 million budgeted for Phase I. Beginning this August, Phase I renovates and builds a new addition for Hillcrest's campus.
More than 65 bids were submitted, and Nabholz Construction presented a Guaranteed Maximum Price for Phase I of $20.9 million.
Due to lower than expected construction bids districtwide and projects on or below budget, even more bond funds were available -- and on July 30, the Board of Education approved a plan to begin Phase I and Phase II in the school's construction.
"I was on the Community Task Force, the Yes on S Committee and spent a night at Hillcrest, and I think the Hillcrest community made it very clear that they wanted this to happen but they had reservations that it would come to fruition," said Dr. Denise Fredrick, school board member. "I'm very excited that not only we were able to get started on this project, but that we can go ahead and do Phase I and II for them. I think the Hillcrest community will be very pleased."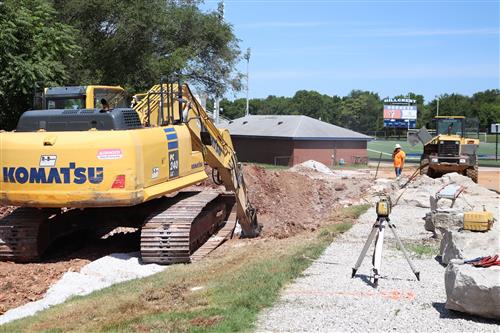 The Phase II budget was $11.1 million, and Nabholz Construction provided a Guaranteed Maximum Price of $8.8 million. In total, the project will cost $29.7 million, a slight increase of the 2019 construction budget of $28.4 million. But the total project budget estimate includes $1.7 million for inflation, which will keep the entire project within budget if the project moves forward now, says Dr. Travis Shaw, executive director of operations.
"By funding Phase II, we also limit construction cost inflation," said Dr. Shaw. "If we were to push this project another year, you could anticipate a 4-6 percent increase in total price due to industry inflation. But funding Phase II now also reduces the interruption of this project for students and staff by limiting the amount of time construction is going on at the site."
Being able to complete the entire project at one time provides much more flexibility for construction teams and Hillcrest administrators. By focusing on several sections of the building at a time, students and staff can be strategically relocated with minimal interruption, while also increasing efficiencies within the building's construction timeline.
But ultimately, it's time to renovate Hillcrest, says school board member Gerry Lee.
"Because of the good stewardship of other projects, it allows us to move forward with Hillcrest and finish Phase I and Phase II with this original plan," says Dr. Alina Lehnert, school board president. "I appreciate the attention to detail that gives us the possibility to move forward at this point."
The school board unanimously approved to fund both Phase I and Phase II of the project after a motion by Hillcrest alumna Dr. Fredrick. Construction is set to begin this August.
"It's a pretty good time to be a sixth or seventh grader on the north side," tweeted Dave Davis, long-time Hillcrest media teacher. "In a couple of years, Hillcrest will be practically a brand new school. Fantastic news."