Return to Headlines
SPS, NAACP come together to register first-time voters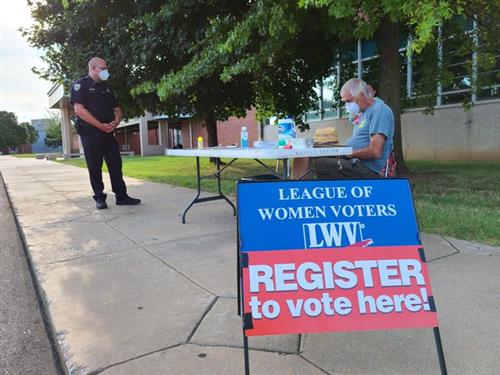 Springfield Public Schools and the Springfield Chapter of the NAACP are working together to register first-time voters.
Drive through voting registration will allow new voters to safely become part of the democratic process. The focus for these events at three local high schools is to register students who will be 18 before the November 2 elections.
"I think it is important for SPS to have a partnership with the NAACP, and I wanted to reach out to high school students because they missed out on so many things this year," said Dee Ogilvy, the Chair of the Community Engagement and Political Action Committees. "I remember the first time that I voted, and I hope that students will be informed, register, and vote to become actively engaged citizens."
Ogilvy had the idea for the voter registration drive and presented it to NAACP leadership, who connected with SPS leaders in the Equity & Diversity department. This opportunity was just one of many ways the district and the NAACP connect to support students and the community, said Dr. Yvania Garcia-Pusateri the Chief Equity and Diversity Officer for SPS.
"The growing partnership between SPS and the NAACP provides great opportunities for the district and the community to engage in transformative programming for our students. The voter registration creates an opportunity for students to prepare for the upcoming election and engage in civic responsibility by registering to vote," said Dr. Garcia-Pusateri. "Carving out space for students to engage in this activity allows them to take ownership of their future and engage in important upcoming conversations. As a woman of color, the legacy of voting has always been important to me, and I'm proud we are able to partner with the NAACP on this important effort."
Voter Registration Drive-Thru at Parkview High School
Monday, July 27
6-8 p.m.
Who can register?
Any student who will be 18 years of age on or before Nov 2, 2020. Students from all high schools and home schools are invited to attend. Adults who are registered can update their voter registrations, name changes and address changes.

Precautions amid COVID:
Volunteers will wear masks, socially distance when possible, sanitize hands, clipboards and pens between each registration. We will provide all supplies, however we do encourage you to wear a mask, bring a black pen and hand sanitizer for your own piece of mind.

Instructions:
Step 1, When you enter the lot, a volunteer will direct traffic, without approaching your car. A second volunteer will approach your car and hand you the form you need, a pen and clipboard, we will give you a quick tutorial on how to fill out the form and then step away. You may ask that volunteer any questions about the form. We cannot discuss any candidates and/or issues. The volunteer will quickly review your completed form only for blank spaces.

Step 2, if you have a current government issued ID (not SPS school issued ID) once you have filled out the form, you will be directed to Dee. Dee is a Greene County Deputy Voter Registrar, you will present your ID and completed form to Dee. She will sign off, sanitize your ID, return the ID to you and keep the form and you are done.

If you do not have your ID with you, you leave your completed form with your volunteer and you are done.