Return to Headlines
Kindergarten Workshop students learn, play in July Explore session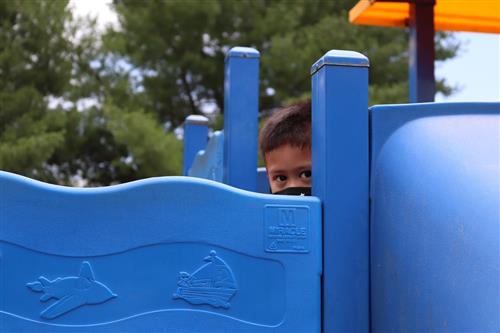 Each day, Sherri Eldred's eight kindergartners learn another letter of the alphabet. They read, draw and learn the basics of life in a typical classroom -- with a few additions this year.
"It's been amazing how great they've been with everything," said Eldred. "We're rocking and rolling and washing our hands, basically once an hour."
In total, 20 kindergarten students are participating in the seated July session of Explore at Mann Elementary School. In their two classrooms, overseen by two teachers, students learn core curriculum and social strategies designed to prepare them for school. And this year, these little learners are encouraged to wear masks, be responsible for their own water bottles, clean up their lunch at their desks and wash their hands often -- skills they're learning, along with how to line up for recess.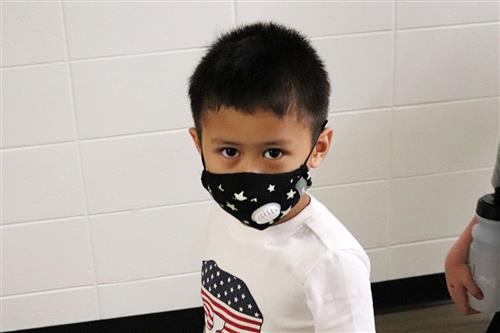 In addition to learning the basics, each afternoon, students are given free time to run and play, and teachers are given tools to engage them at a distance with Bubble Time.
"Bubble Time is always a favorite around here," said Stephanie Young, Mann's Explore principal and year-round principal at Delaware Elementary. "During Explore, our students and teachers have an opportunity to be engaged, learn and have fun. It's been amazing how our teachers and students come together for Explore and succeed, even when things are hard."
Eldred, who works as a year-round early childhood educator at Shady Dell Early Childhood Center, has taught pre-kindergarten Explore classes for several years. While her classroom might look different from years past, her summertime students are learning and thriving as much as ever, she says.
"They've been great, and they're following directions, which is key," said Eldred. "They've been rock stars, and they're having fun. We're still doing story time and our letter of the day, we're still learning how to raise our hand. Right now is totally different than anything we've ever experienced, but I've been blown away by how well the kids have done."