Return to Headlines
SPS Provides Update on Planning for 2020-21 School Year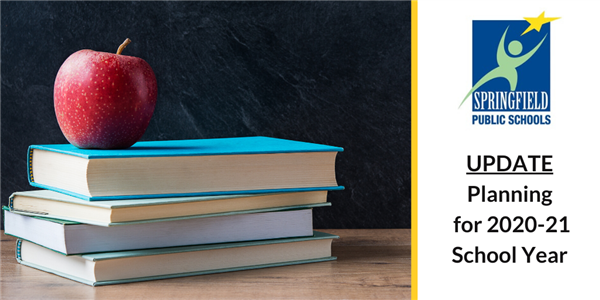 July 11, 2020
We hope that you are having a wonderful summer!
As our community, state, nation and world continue to deal with the impact of Covid-19, we know that many have questions and concerns about the implications for the 2020-2021 school year. We want to assure you that plans are being developed that will enable us to resume learning on August 24 in a safe environment.
Detailed information will be shared with you by the end of July. This will provide our students, staff, parents and community the opportunity to become familiar with new guidelines and expectations.
This communication provides an update on the planning process and how Springfield Public Schools is working to provide a safe and healthy environment for our students and staff this fall.
More than 2,700 students

returned to the classroom on July 6 for the second session of Explore. Approximately 3,000 others continue learning online.



Health and wellness guidelines developed for summer learning are in place and will be

adapted, as needed, for the 2020-2021 school year.

Four district work groups are currently meeting to develop reentry plans for August 24 by studying guidance from the Centers for Disease Control and Prevention, the Springfield-Greene County Health Department, educational associations, peer school districts and others.


Survey data

collected from more than

1,200 staff and 8,600 parents

is being reviewed by the SPS team in order to address concerns and incorporate feedback into final plans.



Our reentry work groups include

more than 75 SPS representatives, including elementary and secondary teachers and principals, as well as individuals from the following departments: athletics, choice programs, communications, counseling, custodial services, data analytics, early childhood education, English language learners, equity and diversity, facilities and grounds, health services, human resources, instructional technology, learning support and partnerships, nutrition services, professional learning, purchasing, special education and transportation.



Representatives from the

Springfield-Greene County Health Department

are also lending their expertise to our work groups.
Once the SPS work groups complete their work in late July, an announcement will be made to staff, students, parents and the community, with comprehensive plans made available for review.
In the meantime, please be assured that we are actively working to provide clarity and options for our 25,000 students and 3,500 staff. In every step of this process, we are guided by our heartfelt commitment to the health, safety and wellbeing of all those we serve.
Please continue to enjoy your summer! We will be in touch with more information very soon.