Return to Headlines
SPS Announces Details for Commencement on August 6-7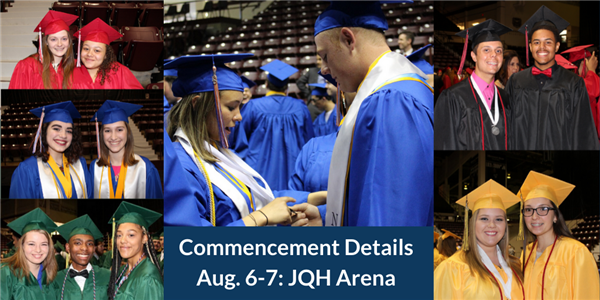 Springfield Public Schools looks forward to celebrating commencement at JQH Arena, located at 685 S. John Q. Hammons Parkway, on the campus of Missouri State University. We are pleased to confirm the date and time for each high school ceremony, along with other important details.
August 6
Parkview High School - 12 p.m.

Hillcrest High School - 4 p.m.

Glendale High School - 8 p.m.
August 7
Kickapoo High School - 3 p.m.

Central High School - 7 p.m.
We are committed to honoring your outstanding achievements and to working in collaboration with the Springfield-Greene County Health Department and Missouri State University to implement the following health and wellness guidelines for the safety of our graduates and guests.
To limit the crowd size and adhere to seating capacity limits, each graduate will be provided

up to 8 tickets

for guests. Each high school principal will send information by email regarding how and when to pick up tickets.

Live streaming

will be provided during each graduation ceremony to ensure that family and friends, who are unable to attend in person, are able to participate virtually. A

DVD and digital download of the ceremony will be available for purchase. DVDs may be purchased for $35 by completing this order form and submitting it by Aug. 14. The digital download may be purchased online for $25.

Graduates will report to

Hammons Student Center

, adjacent to the JQH Arena,

one hour before commencement,

to line-up and receive instructions.

Graduates will be

required to wear a face mask

at all times, with only two exceptions: their individual photo and diploma presentation. Springfield Public Schools will provide the mask for each graduate.

Guests are asked to

sit together in family units and are required to wear face masks per Springfield City Code, Chapter 58, Article XIII, Section 58-1102

. Seating will not be assigned; however, some seating will be restricted in order to promote social distancing.

To reduce personal contact, graduation programs Will NOT be distributed at the event . A keepsake program will be mailed, along with their diploma, to each graduate.
Immediately following commencement on August 6 and 7, Project Graduation will be hosted in each high school gymnasium (Parkview at 2:30 p.m.; Hillcrest at 6:30 p.m.; Glendale at 10:00 p.m.; Kickapoo at 5:30 p.m.; and Central at 9:30 p.m.). This celebration at school will include prizes for graduates. Face masks and social distancing will be encouraged. The event will last approximately one hour and additional details will be provided by each high school.
We look forward to seeing you on August 6 and 7. In the meantime, please watch for an email from your high school principal with information about ticket distribution and other details.
Congratulations to the Class of 2020!