Return to Headlines
SPS Athletic Directors receive national certifications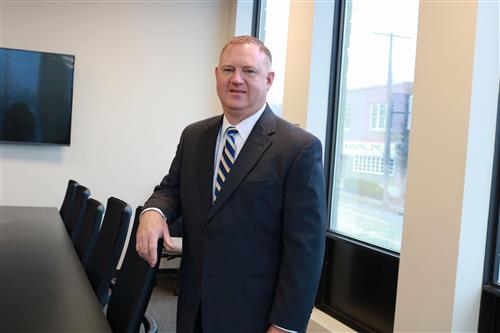 Across Missouri, 10 district athletic directors have earned the distinct title of Certified Master Athletic Administrator from the National Interscholastic Athletic Administrators Association (NIAAA). This certification is difficult to achieve, requiring a formal presentation of an individual's long-term strategic planning and proven success of administering athletic programs at the K-12 level.
Springfield Public Schools Assistant District Athletic Director Marty Marsh is the latest to receive this national honor of excellence. Marsh was named Certified Master Athletic Administrator for his work on the SPS middle school athletic expansion, which has garnered national attention.
"Marty's dedication to Springfield Public Schools athletes and programs is outstanding," said Josh Scott, SPS athletic director. "Marty's project on the middle school expansion set the district on par with our regional peers. The program Marty oversaw will be a model for other districts nationally. But even more important, Marty is modeling continuing personal and professional growth."
Nationwide, there are less than 1,000 Certified Master Athletic Administrators, who are seen as the leaders in their field. Marsh oversees athletic departments in nine middle schools and an intermediate school, which provide extracurricular and athletic opportunities for all students grades 6-8.
Marsh's team of dedicated educators includes athletic directors at each middle school, including three who just became Certified Athletic Administrators: Rich Dameron from Reed Academy, Brad Angel from Carver Middle School and Jeremy Rios from Cherokee Middle School. To earn the certification, each AD had to pass a rigorous written examination and demonstrate overall excellence in education-focused athletic administration.
In total, SPS has seven Certified Athletic Administrators from NIAAA.
"The world of athletics is highly visible and ever changing," said Josh Scott, SPS athletic director. "The professional development academy through NIAAA is nationally accredited and gives athletic administrators training specifically for education-based athletics. From legal issues to character education, the NIAAA is professional development by athletic directors for athletic directors. We're proud to see our athletic directors leading and learning for our students."
These designations, through the NIAAA Professional Development Academy, were accredited through NCA, as well as AdvancED. Springfield Public Schools is home of 20 percent of active Certified Master Athletic Directors in Missouri.