Return to Headlines
GHS library media specialist and Honey, her dog, take literacy to the streets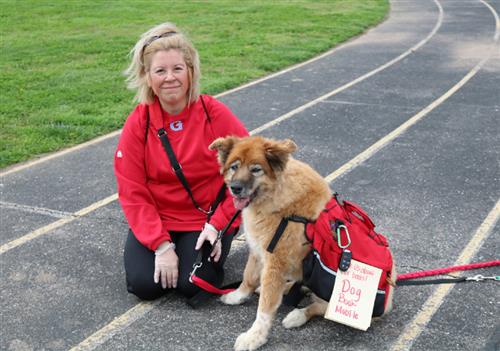 Glendale High School students and their library media specialist, Nicole Bueno, had a plan to build a Little Library this spring. The idea was a cooperative effort between Tech and Design Academy and Glendale's Library. The grab-and-go free library was intended to be on the corner of the high school's campus. Hundreds of books were donated by Daughters of the American Revolution and Scholastic; decisions were made about its design and color.
Then, COVID-19 happened -- and the little library's construction went on hold.
Stuck in her house with hundreds of donated books given to her months prior, Bueno decided to take action and take to the streets.
"I had all these books, so I called my neighbors and asked if their kids or grandkids would like these donated books, because they're just sitting in my house," said Bueno. "So I put my dog's backpack on and put a couple of books in it, and the neighbors loved it."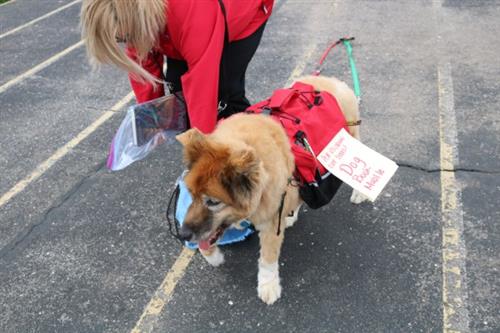 Bueno's neighbors loved the effort and the Dog BookMobile -- Honey, Bueno's 17-year-old rescue. Using a series of leashes, Bueno maintained a 10-feet distance from residents requesting books. She wore gloves, and each book was in a ziplock bag, sanitized prior to being put in the bag.
In the midst of it all, Honey would take a few solo steps to a child or neighbor, safely delivering books to their new owners on their doorstep.
"The response has been really overwhelming," said Bueno. "Honey and I went to different neighborhoods and would walk 30 or 45 minutes, giving away books to whoever wanted them. I'm glad I can be doing something to promote reading and literacy right now."
In total, Bueno has given away more than 200 books to children and neighbors in Glendale's feeder pattern. She's out of books for now, and with the American Library Association's guidance on quarantining all donated books for 14 days, she won't be giving out books with Honey again anytime soon.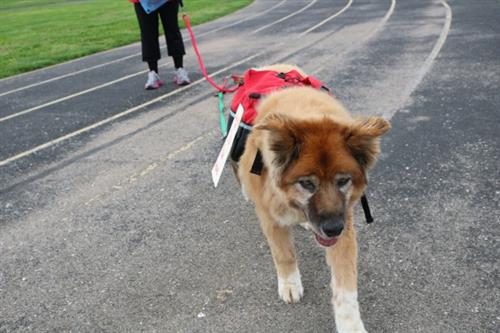 But she and Honey have hope for the future.
"Maybe in the fall we can get something together, hit the roads again," said Bueno. "Honey loves to walk."