Return to Headlines
KHS students headed to Robotics World Championship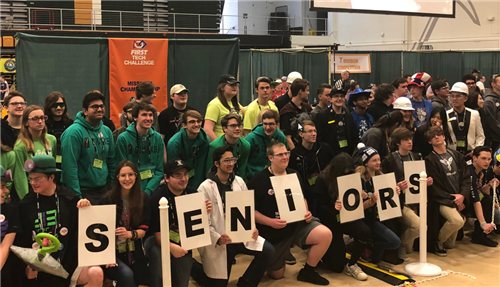 For the first time since the robotic program began at Springfield Public Schools, one of the three Springfield Robotics teams is heading to the World Championships after competing at the state tournament on March 7. The competition, held at Missouri Science & Technology in Rolla, is part of the FIRST Tech Challenge. This is a program open to all seventh through twelfth graders with more than 70 countries participating.
Kickapoo High School Physics First teacher, Betsy Cannella, began a robotics program at SPS in 2011 when she was a teacher at the Phelps Center for Gifted Education. When she began teaching at Glendale High School, she started a FIRST Tech Challenge team for the 2013-2014 school year. Last year, she became a Kickapoo High School teacher and increased the program so that students who did not have a program at their schools could join. Area schools such as St. Agnes Catholic, Ozark and Strafford have teams who participate in FIRST. Central High School also has a robotics team, and Sam Shelton is the coach.
"This is an opportunity of a lifetime for the students and me. This is the first team from SPS and the Springfield area to qualify for the world championships. Almost 9 years ago, I visited St. Louis when they hosted the World Championships, and it was an incredible experience -- and I was only a spectator. Now I get to allow students that same experience and opportunity to reach beyond our area and meet people from all around the world," said Coach Cannella. "On Saturday at the state tournament, our team did not necessarily have the best robot or the experience that matched other teams but we have passion, drive and a willingness to learn."
Congratulations to the following students on the Kickapoo High School robotics team:
Jackson Areibtman

Collin Harrel

Braden Kunkle

Owen Schuldt

Will Sharpsteen

Jacob Woods
The World Championship for the Kickapoo team will take place in Houston, Texas, on April 14 to April 18, 2020. For more information, visit firstchampionship.org.