Return to Headlines
WOLF helps current fifth-graders become future conservationists
Alexis Bess' favorite field trip this school year was kick netting, definitely.
"It's where you go into a river and you put rocks on this little net and then you have to kick it and then you get little microinvertebrates," said Alexis. "That was my favorite of our weekly field experiences."
Alexis Bess is a fifth-grader at the Wonders of the Ozarks Learning Facility, known for the past 12 years as WOLF School. The choice program is designed for 46 fifth-graders who have a special interest in nature and the outdoors, offering inquiry-based learning experiences. Students explore a comprehensive curriculum through the context of environmental sciences and conservation.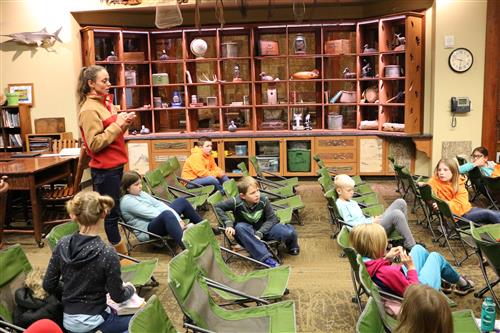 WOLF teacher Lauren Baer loves watching her students fall in love with the outdoors.
"I love what getting outdoors teaches our students, or just people in general," said Baer. "I left my teaching job in Willard so that I could go into outdoor education, but I decided to join this program because I believe in everything it stands for and provides for students."
Baer works alongside teacher Courtney Reece, who has spent nearly a decade teaching WOLF students. Together, they facilitate and collaborate with the dozens of expert conservationists, biologists, marine biologists, animal handlers and more who work down the hall from the WOLF School in the John A. & Genny Morris Conservation Education Center.
These local scientists provide rich, hands-on learning experiences and behind-the-scenes exhibitions of the Wonders of Wildlife Aquarium, all a part and plan of the school's strategic partnership with Bass Pro Shops.
"The best part of WOLF is that you don't just have to do work, you can do other fun things if you get your work done, like handling the animals," said Max Krupa, a WOLF student. "It's a lot of fun and we get to do really cool stuff."
The Animal Handling Program is one long-term component of the WOLF School experience. Under the close supervision and support of animal handling professionals, students learn how to facilitate, handle and present Bass Pro's resident animals throughout the school year, beginning with Madagascar Cockroaches.
But Alexis loves the field experiences to the Ozarks' waterways.
"I want to help save rivers and streams because there's a lot of unknown wildlife in there," said Alexis. "There's a lot of wildlife that people don't know about that we could save."