Return to Headlines
Every fourth-grader attends 50th Anniversary Young People's Concert by Springfield Symphony
This is what learning sounds like. 🎻 Today, every SPS fourth-grader attended the 50th Annual Young People's Concert, performed by @SprngfldSymph. MORE: https://t.co/cmiqnCuLd5 pic.twitter.com/nABYzKzU6u

— Springfield Public Schools (@officialSPS) January 28, 2020
From Mozart to Star Wars and Rossini to The Greatest Showman, nearly 2,000 Springfield Public Schools fourth-graders were taken on a musical adventure on Tuesday, Jan. 28.
The noteworthy presentation was the Young People's Concert, an annual tradition for the Springfield Symphony Orchestra. This was the 50th year for the free concert, created and performed exclusively for local elementary children.
This year, students experienced the musical program Go Ask Google: A Musical Adventure Through the Internet. A young narrator on stage and behind the scenes provided information about the composers, their lives and the dynamic impact of their work, often instantly recognizable to students in attendance.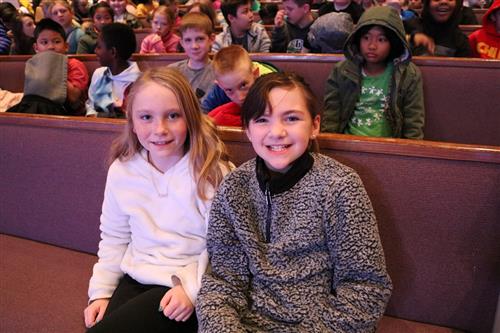 "Iconic pieces of music are everywhere around our students, they may just not know it," said Breana Kavanaugh, fine arts/world language coordinator. "This amazing opportunity for our fourth-graders to hear this incredible music, performed by local, talented musicians, deeply enriches their learning and helps them better understand how much the arts touch our lives."
SPS students were joined by nearly 1,000 other fourth-graders from 50 area districts and private schools. Springfield Symphony musician Starla Blair and Springfield native Starla Blair has played the violin in local Symphony for more than 40 years.
"My favorite part of the Young People's Concerts is to see kids so excited about the pieces," said Blair. "A lot of the students come out encouraged, where they start taking lessons on various instruments, and a lot of them go on to become a part of the Symphony. I think it has been really good to show these kids and see their excitement during the concerts. That is the greatest thrill of it."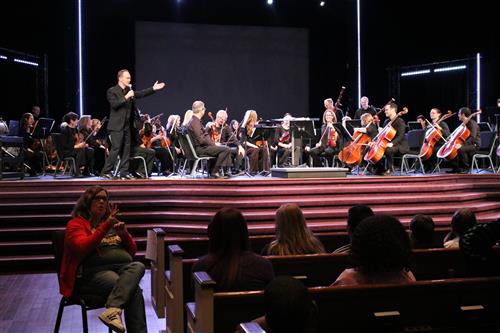 Two concerts were performed on Jan. 28 at High Street Baptist Church. The Young People's Concerts are sponsored by the Stanley and Elaine Ball Foundation, the Schneider Family Foundation, US Bank, and 3M Foundation.
The Young People's Concerts are one of the many arts programs in Springfield associated with The Kennedy Center's Any Given Child Initiative, to ensure that all children in the Springfield community are guaranteed a rich and full arts education.