Return to Headlines
Students celebrate their Chin culture with Pershing classmates
Dressed in traditional Chin clothing, about 20 students shared with their classmates at Pershing K-8 School highlights of their Burmese culture. The students, who immigrated from the Chin State in western Myanmar, performed a traditional dance called "lai", modeled colorful clothing, demonstrated wrestling and described their journey as refugees.
Rem Mawi, who is a senior at Glendale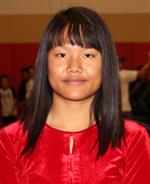 High School, came to Springfield last year. "It is a very lengthy process to immigrate to the United States," she explained. "We spent two or three years two or three years in Malaysia as refugees before we were able to come."
The Chin are predominantly Christian but live in a country where the majority of the population practices Buddhism. "We were repeatedly discriminated against by a military dictatorship," Mawi explained. She said currently about 500 Chin people reside in Springfield.
She was one of the SPS students who helped organize the cultural celebration which was presented in front of Pershing students and staff during assemblies Nov. 22.
"I want to say thank you for giving us the opportunity to show our culture. I also want to express my gratitude to Pershing Middle School principal, counselor, all the teachers and other faculty member who work so hard for the Chin students here," she said. "Since a lot of the Chin kids here are newcomers there may be a lot of times you spend going above and beyond the call of duty during and after class giving your individual attention to make sure they understand."
Eighth-grader Van Peng recited a poem he wrote to express his feelings about his journey:
"We were kids born with nothing
But our lives have turned into something
We met a lot of people along our journey
To be by our side and keep us company
Here we stand today
To express our culture in our way
By dancing, and continuing our traditions
To provide understanding and recognition"