Return to Headlines
HHS student leaders serve breakfast to Robberson students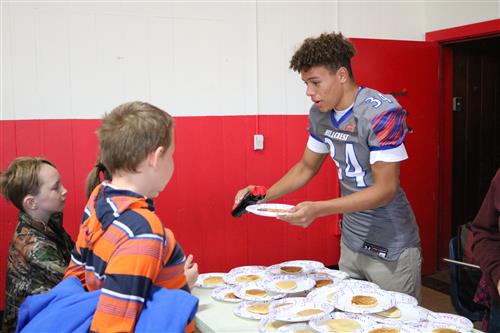 In his football jersey, Hillcrest High School senior Christopher Attyberry served breakfast.
He loaded up plates with homemade pancakes and placed just right amount of syrup for each student's pancakes, per their request. He handed students plates and welcomed them to school.
Being a friend to Robberson Redhawks came easily for Christopher. He used to be one.
"It's a lot smaller than I remember," said Christopher. "But I know where everything is; nothing's really changed. But I'm glad to be here and help the little kids. It's important for them to see me in my jersey because it might bring up questions about what Hillcrest is, or they might want to go there because they met us."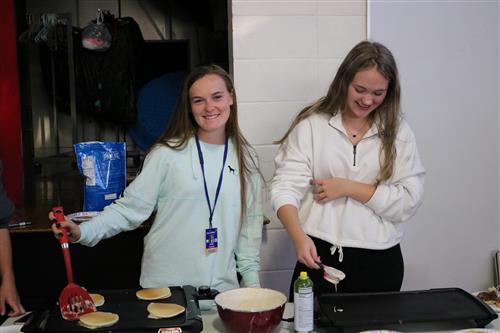 On Friday, Oct. 18, more than 20 Hillcrest High School students served a free, homemade breakfast to first- and second-graders as a community service project for The Interact Club. The organization places a focus on giving back and empowers students to serve others in their community.
"We wanted to do something that showed that we cared," said Madison Edmondson, Hillcrest senior and Interact Club Vice President. "We know that they're little kids, but they're going to be Hornets one day, and we wanted to do something that made them feel special."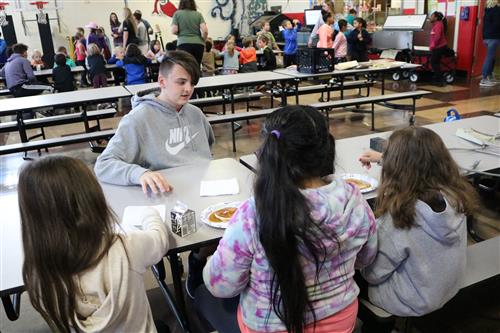 HHS student leaders woke up early to serve homemade pancakes to Robberson learners, managing the logistics of griddles, batter and serving schedules. Plus, Hornets led Redhawks in activities, read books and made connections with what they were learning.
Robberson principal Dr. Kevin Huffman was excited to see Hillcrest students interacting with his learners.
"I go to Hillcrest football, volleyball games, I go to Hillcrest's graduation, and I just oftentimes don't see my kids," said Dr. Huffman. "Building connections to what comes next is so important for the students, so they develop an understanding that they go to Reed, then they go to Hillcrest. Having Hillcrest, even Reed, students in our school is so important to building those connections."