Return to Headlines
All seventh-graders experience chemistry, conservation with The Watershed Center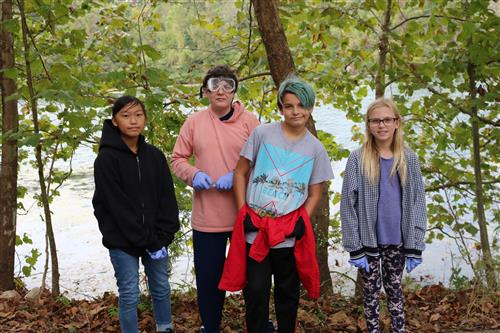 Pipkin seventh-grader Connor Ferry led the way down the bluff to collect water.
His friends flanked him on either side, goggles on and eyes focused. Armed with a science kit and under the direction of a volunteer, the group of four seventh-graders were testing the Ph levels of the lake at Valley Water Mill Park.
"We're learning about chemicals, just like we're learning about in science," said Connor. "Out here, we learn about chemicals in the water. But at school, we learn about chemicals in graphs. So this can relate back to graphing and other things at school. Plus it's a nice day."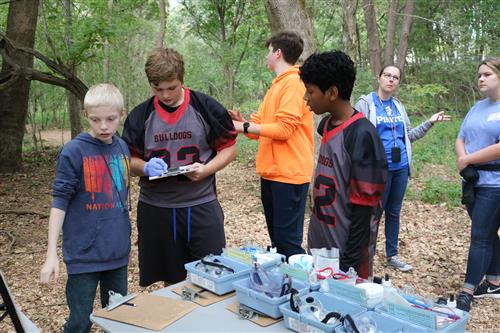 Connor is one of nearly 2,000 seventh-graders who are visiting the Watershed two times this fall as part of a project-based learning unit, Greener Greenspaces. The unit ends with a combination visit to both the Springfield Landfill and Ritter Springs Park. Each field trip connects conservation, chemistry and their impact on local waterways.
"This experience is one that some of our middle schools have participated in the past three years," said Dana Hubbard, director of summer learning and student experiences. "This year, in conjunction with our Learning Support team, we are pleased to be able to provide this experience to all middle school sites."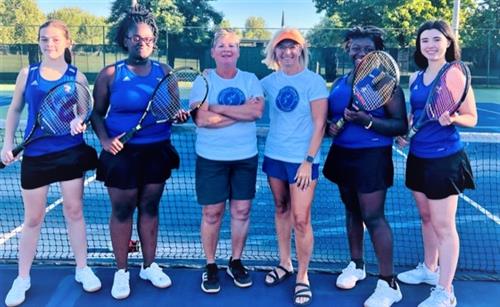 Greener Greenspaces Experience SPS is a partnership with the Watershed Center, City of Springfield Environmental Services, Fantastic Caverns and Springfield-Greene County Park Board. innovative learning experience in partnership with The Watershed Center at Valley Water Mill Park. There, scientists, conservationists and Watershed volunteers lead students in a number of hands-on projects, like testing water chemistry, determining the Ph level of streams and examining active microvertebrates in the water.
In every hands-on lesson, students gain a more tangible, authentic awareness of science, nature and their impact on students' lives.
"Ideally, every person in the community would know about the importance of protecting the quality of our waterways," said Jeff Birchler. "If we can get every student in SPS out here and thinking about the importance of protecting our waterways, that's amazing. It helps our students think about something that makes such a difference in our community, not just when their kids, but when they're adults."