Return to Headlines
GHS and HHS freshmen explore career pathways at Academy Career Fair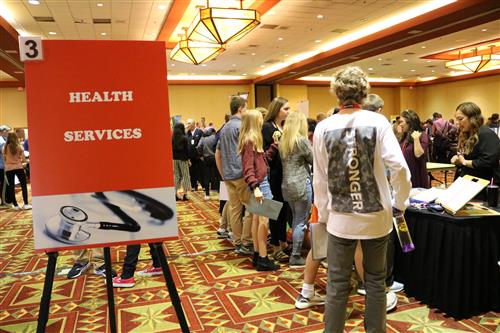 More than 500 SPS freshmen learned about careers in a variety of fields at the Academy Career Fair. The second annual Academy Career Fair helped students in the Freshman Academies at Glendale and Hillcrest high schools identify which career and pathway might be best for them to pursue.
"The Career Fair is an event where students will get information about the education and personal attributes they will need in order to be successful in a specific career," said Alison Roffers, coordinator of counseling services. "Students will have the opportunity to speak one-on-one with industry professionals and interview the exhibits about the career they represent."
At the Career Fair, more than 30 organizations were on hand to serve as representatives for post-secondary options. Hands-on experiences for students, as well as specific interview questions, helped students make authentic connections to potential jobs.
Freshmen were encouraged to linger and ask meaningful questions about the business representative's passion, education and prior to experience that led to their current employer. For many students, it was the first interaction with representatives from local colleges and universities.
"Part of the Academy model is for students to have meaningful connections with local business leaders," said Rhonda Mammen, director of counseling services. "A career fair, where a number of local businesses would all be in one place, is a really efficient way to connect students with a number of opportunities at once."
But students' learning doesn't end after the half-day experience at the Career Fair. Freshmen will connect with their Freshman Academy teachers about the connections they made and facts they learned about the path to different careers in lessons for weeks after the Fair. This will help students make connections for selecting classes and Academy pathways in the future, said Mammen.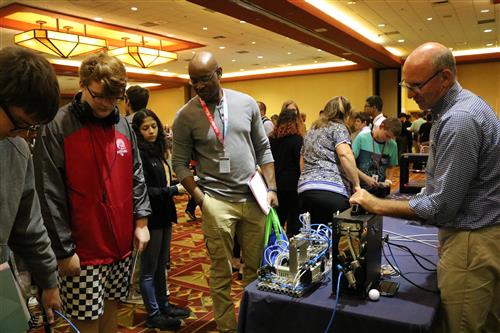 "As opposed to a job fair, where students visit specific companies, the Career Fair allows companies to come together to represent career areas for students to explore," said Roffers. "The hope is that students will begin to identify career areas that would be a good fit for their interests."
The morning Academy Career Fair is a closed event specifically for Glendale and Hillcrest Freshman Academy students. However, later in the day, the College & Career Fair is open from 5 to 7 p.m. for all local students to explore options for post-secondary success. For more information, visit the SPS College & Career Fair website.