Return to Headlines
CHS Bulldog Buddy Bash builds relationships, connections to high school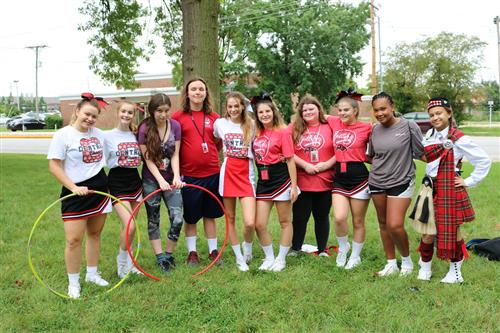 Jordan Altic knows how to navigate Central High School. She knows its hallways and its clubs. She's on the CHS Dance Team, and she's attended classes throughout the building. And this year, she volunteered to be a Bulldog Buddy group leader, leading a small group of freshmen on a day-long introduction to life at Central: the Bulldog Buddy Bash.
Jordan's just a year older than the students she's leading in her group, but she has a lot to share, she says.
"This is my fifth year at Central," says Jordan. "I was a Scholar, so I thought it would be cool to make sure that these kids get to know what they're doing at Central. I love these kids, even though sometimes they can be a bit much."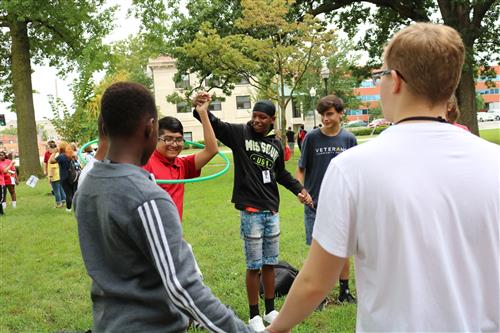 On Friday, Aug. 23, 16 Bulldog Buddies led 30 groups of freshmen across Central's campus. The Bulldog Buddy Bash began in 2017 as a freshman mentor program, created by CHS science teacher Brandi Mendenall.
"It started as a freshman mentor program to try to help ease some of the growing pains that occur with the transition to high school," said Mendenall. "Research shows that having a support system, being involved and feeling like they are a part of the school community can have tremendous impacts on success. The aim of Bulldog Buddies is to do just that."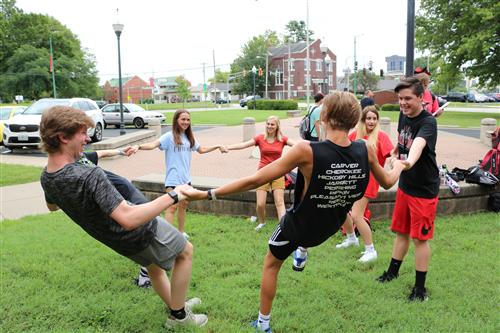 With the help of CHS teacher Kori Chrismer this year, Mendenall is helping 100 CHS upperclassmen mentors connect with two to five freshmen buddies. In the first two weeks of school, mentors have met with their Buddies twice. On Friday, they completed outdoor team building events, a scavenger hunt around the inside of school and had lunch together at the stadium.
Jordan let her group of 12 around outside with the help of two other student leaders. Isabel Yager, a sophomore, helped keep the group on schedule, carrying a clipboard of activities the students would complete. Yager had a Bulldog Buddy last year when she was a freshman, and she knows how having an upperclassmen can help students feel more comfortable at school.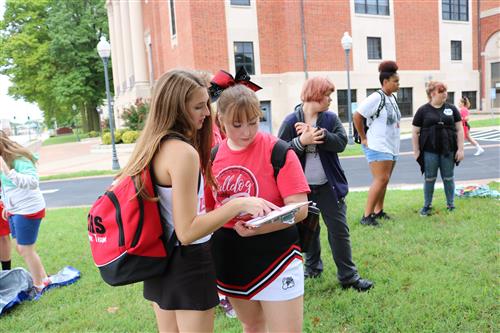 "I think it's important to have a buddy because it will help the freshmen open up," says Isabel. "Having a Buddy this year for freshmen will help them get out of their comfort zone, try new things because they have someone to help them."