Return to Headlines
4 SPS seniors earn enough credits to graduate high school and college at the same time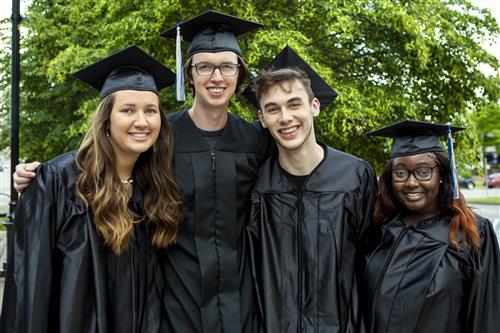 SPS seniors Alex Carlson, Jacob Downton, Cora Grimm and Neela Sabb will graduate high school from the OTC Middle College program on Wednesday, May 15, with enough college credits to receive an associate degree.
"When you look historically, this has never happened in Springfield," said Tiffany Brunner, Middle College Director. "That would indicate it's a really big deal because there have been so many bright graduates from SPS. For this to never have happened I think that gives indication of how big of a deal this is, for a high schooler to earn an AA."
The four Middle College students graduating have an extensive amount of schooling ahead, with two students seeking to attend medical school in the future. By earning an associate degree while in high school, they shave two years off their educational journeys at no cost to them. The partnership between Middle College and SPS provides the funding for tuition and textbooks for college courses for students, says Brunner.
"If a student has a lengthy educational road ahead of them, this really puts them at an advantage," she said. But it's certainly not for every student."
The OTC Middle College program is designed with student needs in mind. Over the course of the program's 10-year history, academically successful and at-risk students have found a family at Middle College, with students who are interested in pursuing success after high school in a variety of ways.
"I'm proud of the four students completing their AA, but I'm equally proud of the students in Middle College who are in foster care and are trying to get their high school degree completed," said Brunner. "That level of effort and those hurdles are equally difficult in terms of what a person has to overcome to be successful in their own right. So we have lots of students who are succeeding in a lot of different ways."
And for the fourth year in a row, every Middle College senior will graduate at the Gillioz Theatre.
"It's not been without great challenge for them, but they've had extreme support with their high school teachers here and our staff here at OTC," said Crystal Stine, OTC Middle College student advisor. "It's just really allowed them the full capacity to excel at their personal best."