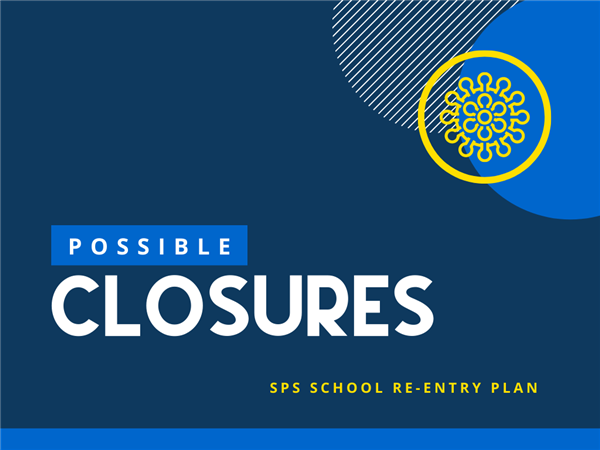 POSSIBLE CLOSURES

The decision to close SPS schools may be made as a means to prevent further spread of the epidemic or in response to high student and/or staff absenteeism. The district will make school closure decisions in consultation with the Springfield-Greene County Health Department.

The school district will consider phasing school closures based upon city, county, and state guidelines and will consider the percentage of site population testing positive for COVID-19 relative to the environment of the school building. For example, age-level, make-up of building occupants, likelihood of exposure to employees and students in the building.

When there is confirmation a person infected with COVID-19 was in a school building, SPS will work with the Health Department to assess factors such as the likelihood of exposure to employees and students in the building, the number of cases in the community (building), and other factors that will determine when the building should close. Closure will be determined on a case-by-case basis depending on age level, make-up of building occupants, etc.

All other unaffected sites remain open.
Last updated on July 23, 2020
Student Directions in Case of School Closure
In case of school closure due to COVID-19, students should take the following materials home each evening:

District-issued device

District-issued charging cord for the device

Notebook

Pencil or pen

If temporary school closures occur, teachers and students will transition instruction to virtual learning immediately until the building reopens.

Students in seated classes will be transitioned to virtual learning with the same teacher(s).

During temporary virtual learning, elementary teachers will provide approximately four hours of synchronous (live, real time) instruction through Canvas. Secondary teachers will provide virtual office hours each day for their students. Each teacher will communicate his/her daily schedule for each subject area to all families.
Notification of School Closure
SPS will use a variety of communication channels to notify parents of possible exposures and/or school closures. Our ability to communicate with you depends upon the accuracy of contact information you have on file. Please review information about SPS communication channels here and complete this form to ensure that your child's school has your current contact information.