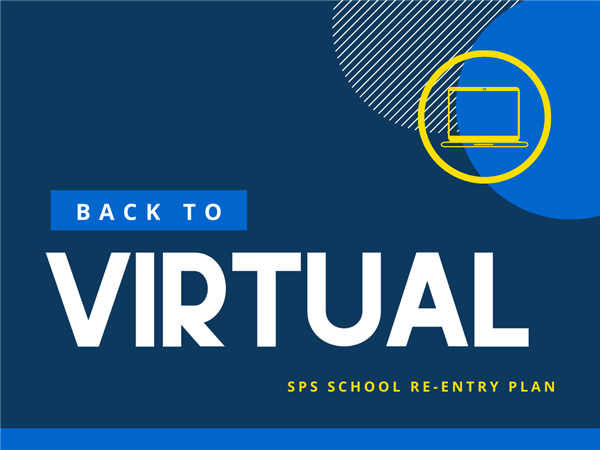 Virtual Learning Option
The full-time virtual learning option will be a comprehensive school experience. The 100 percent virtual curriculum will be delivered by a certified SPS teacher. Students will have a more structured online learning experience than they did this spring via the SPS At Home online learning platform.

Students will be supported in their online learning by teachers who provide direct instruction, feedback and interaction five days a week.

Elementary Students - teachers will provide approximately 4 hours of live instruction via Canvas each day. Students will be expected to participate in live online lessons daily, 2 hours per day of independent online work and 1 hour of recess/lunch.

Middle and High School Students

who choose the full Virtual option

will engage with content daily and complete lessons independently. Students should plan to participate in each course six hours per week, with teacher support available three hours per course each week.

Attendance and grading expectations will be the same as those for In-Person classes.

Teachers will communicate regularly with parents/guardians to ensure attendance and monitor for needed support.

There will be face-to-face check-in opportunities for students during the school day in a limited capacity.

All courses will be available in Canvas, regardless of delivery mode including access to adaptive software, eBooks and other district-adopted resources. All courses are written to Missouri Learning Standards or Major Instructional Goals.

Full-time virtual students will be enrolled in the same number of courses as full-time In-Person enrollment.

Qualifying students who meet criteria for English Language Learners, Special Education or Title I services will receive support, however, it may look different than the support provided In-Person.

For students with disabilities, individual determinations regarding programming and services will be determined by the IEP team.

Full-time virtual services are not available for students in choice magnet schools, and other specialty programs. T

his includes WOLF, Academy of Exploration, Academy of Fine and Performing Arts, IB PYP, IB MYP, IB DP and Scholars.

Most elective courses will be available virtually.

SPS devices are issued to all students.

Students opting into full-time virtual courses will need reliable, high-speed Internet.

For students needing Internet access, a variety of options will be available including hot spots and in-home solutions through Mediacom. Further information will be available in the coming weeks.

Students will be expected to complete all required assessments including iReady and Missouri Assessment Program, End of Course exams and college and career assessments, as required by the state of Missouri.

Full-time virtual students are eligible for MSHSAA extra-curricular sanctioned activities should they meet GPA and citizenship requirements. (Note: For students seeking to participate in co-curricular activities; i.e. band, choir, orchestra, speech and debate, etc. they must attend the seated course and would not be considered full-time virtual.) For more information, students should contact their site athletic coordinator (MS) or director (HS).

Due to the logistics associated with delivering the two instruction options, families should commit to the option they select for the first semester of the 2020-2021 school year. When the first semester, they will have the opportunity to select a different option.

Students must select courses from the Launch catalog. Courses not listed in the Launch catalog will not be available in the fully virtual model.

Technical support will be available through the Launch Office at 417-523-0417 or

support@fueledbylaunch.com
Last updated July 28, 2020
Virtual Expectations
The full-time virtual learning option will be a comprehensive school experience. Students will have a more structured online learning experience than they did this spring via the SPS At Home online learning platform which was used when schools were unexpectedly closed due to COVID-19 in March.
Virtual Students & Athletics
Full-time virtual students are eligible for MSHSAA extra-curricular sanctioned activities should they meet GPA and citizenship requirements. (Note: For students seeking to participate in co-curricular activities; i.e. band, choir, orchestra, speech and debate, etc. they must attend the seated course and would not be considered full-time virtual.) For more information, students should contact their site athletic coordinator (MS) or director (HS).