Middle Years Programme:

"A challenging framework that encourages students to make practical connections between their studies and the real world, the MYP is inclusive by design; students of all interests and academic abilities can benefit from their participation."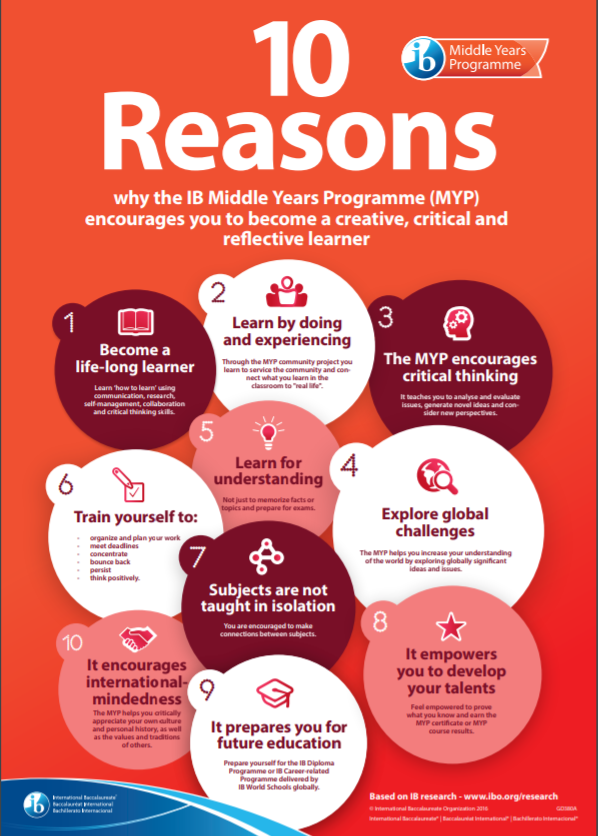 The MYP requires at least 50 hours of teaching time for each subject group in each year of the programme. In years 4 and 5, students have the option to take courses from six of the eight subject groups within certain limits, to provide greater flexibility in meeting local requirements and individual student learning needs.

Each year, students in the MYP also engage in at least one collaboratively planned interdisciplinary unit that involves at least two subject groups.

MYP students also complete a long-term project, where they decide what they want to learn about, identify what they already know, discovering what they will need to know to complete the project, and create a proposal or criteria for completing it.

Research shows that students participating in the MYP:

build confidence in managing their own learning
learn by doing, connecting the classroom to the larger world
outperform non-IB students in critical academic skills
consistently have greater success in IB Diploma Programme examinations
thrive in positive school cultures where they are both engaged and motivated to excel
develop an understanding of global challenges and a commitment to act as responsible citizens.

The MYP was revised in September 2014 to provide a more rigorous and highly flexible framework that powerfully integrates with local educational requirements. New industry-leading onscreen examinations an ePortfolios offer exciting opportunities for reliable, robust digital assessment of student achievement.